Brandeis student wins $10,000 grant for Rwanda project
Margot Moinester '09 is one of 100 student winners nationwide
WALTHAM, Mass. – Margot Moinester '09, a 2007 Ethics Center Student Fellow at Brandeis University,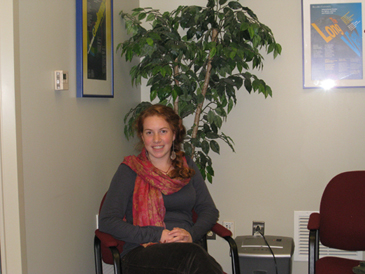 has received a $10,000 grant from the Davis Projects for Peace for 2008.
Along with Susan Younger, a textile artist and student at the Memphis College of Art, Moinester, a native of Memphis, Tenn., proposed a sewing cooperative project that will enable Rwandan women to support themselves and their families while battling HIV/AIDS and in aftermath of violence, including rape.
According to the project proposal the women will receive additional training in sewing and craft techniques, business and presentation skills in order to "fulfill their expressed goal of functioning independently." Another goal listed is to assist the cooperative in becoming economically and artistically sustainable through Manos De Madres and other distribution networks. Manos De Madres is a not-for-profit corporation in the US that imports, distributes, and sells women's crafts from various countries around the world.
Moinester will travel to Rwanda over the summer to work on the project, which was inspired by her Ethics Center Student Fellowship internship in the summer of 2007, when she worked for WE-ACTx in Rwanda, an initiative created to increase women's and children's access to HIV testing, care, treatment, support, education and training. Through the internship Moinester educated and counseled women with HIV about their legal rights and worked on income-generation programs.
"Helping these women, all of whom are infected with HIV/AIDS, will help to build sustainable peace in this region ravaged by conflict," says Marci McPhee, who administers the fellowship program for the Ethics Center. "Because of Margot's successful internship last summer with these women, she is uniquely qualified to understand their needs and capacities. This project has a very strong likelihood to make a real difference in this conflict-torn region."
In its second year, Davis Projects for Peace honors philanthropist Kathryn Wasserman Davis, who launched the initiative on the occasion of her 100th birthday in 2007. Designed to encourage and support motivated youth to create and implement their ideas for building peace throughout the world in the 21st century, the program funds 100 projects a year for a total of $1 million. For more information, visit
http://davisprojectsforpeace.org/
.
Return to the BrandeisNOW homepage