Developing an artistic sensibility
Professor Judy Eissenberg shares her thoughts on the impact of world music and the artistic values of Barack Obama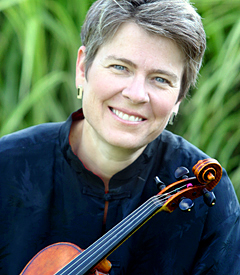 Judith Eissenberg, Professor of the Practice of Music and violinist in the Lydian String Quartet, has been a member of the Brandeis University music faculty since 1980.  She is founder and director of the program MusicUnitesUS.
BrandeisNOW: What are you feeling about music today?

JE: Hope. Barack Obama has identified cultural diplomacy as one of the initiatives of his administration. He seems to understand that the arts can be messengers of hope. I believe we are contributing to that here at Brandeis. The arts, and music in particular, can open hearts when words cannot. These can be hard times to let go of fear and hatred, and look openly at the injustice that is at the roots. That requires empathy. Music—with its capacity to protest, witness, transform, inspire, unite—invites empathy and helps us to imagine a different vision of the world.

BrandeisNOW: How does this relate to your teaching?
JE: I believe that the mind can achieve much more in conversation than in isolation. New research in cognitive science points to the interactive connections between our emotions and our cognitive abilities. Decision-making is not just an objective exercise, but a complex weaving together of experience, knowledge, and emotions. The arts can serve to stimulate the ethical imagination as the dual impulses to know and to feel combine to form a mature empathetic understanding of the human condition.  The capacity to be both critical and empathetic, the willingness to be open to multiple perspectives, and the drive to express and create, are part of what I think of as artistic sensibility. It is with artistic sensibility that the artist and the historian, the dancer and the theoretician, the musician and the statesperson, and perhaps communities and peoples in conflict may work and create together. Hopefully, in time, we will together develop an artistic sensibility in all that we do, that may shed light on the difficult challenges that lay ahead.
BrandeisNOW: Describe the mission of your program MusicUnitesUS.

JE: MusicUnitesUS teaches us about diverse cultures, not just historical facts or news reports. I believe that music is a common medium that can help to unite diverse cultures in our own neighborhoods and transcend boundaries in the global community. We have brought to campus musicians from around the world—from West Africa, South Africa, Israel, Peru, Iran, Turkey, China and India. I feel that in a healthy, thriving society, two things can be found: tolerance of multiple voices and creative expression.  An artistic sensibility recognizes the social, political, and intellectual necessity for these two things. 

BrandeisNOW: How did this program start?

JE: It began as a concert outreach program to the Waltham public schools, through their social studies curriculum. MusicUnitesUs now brings 1,000 students annually to the Brandeis campus. The second year of the program, we added a World Music Concert Series for the public and an Intercultural Residency Series to links the concerts to the Brandeis curriculum and research. Each residency inspires conversations and cultural exchange of art, values, traditions, histories and ideas. 

BrandeisNOW: How did you become interested in this work?

JE: I was listening to a discussion about Gandhi and heard a quote that went something like this: "where there is violence, look for injustice." That stayed in my mind and it has become a sort of life raft of hope for me. I knew I needed to understand more about the world, to broaden my perspective as a white, middle class, educated American woman. The possibility that a deeper understanding of diverse worldviews might clear the way for justice to prevail became a beacon to me.

BrandeisNOW: What are you planning now?

JE: In March 2009, Brandeis will host Nettle, four musicians who combine North African folksong, Arab classical traditions and American hip-hop. By merging cutting-edge music technology with centuries-old traditions, we hope to explore some of the contradictions and creative frictions caused by globalization. It's going to be a concert that will really get "under the skin."
Return to the BrandeisNOW homepage