Brandeis authors pen hot holiday reads
David Hackett Fischer, Irene Pepperberg and Jane Kamensky featured in independent booksellers gift guide
Three new books by Brandeis faculty members are on this season's gift wish list according to the New England Independent Booksellers Association (NEIBA).  "Champlain's Dream" by David Hackett Fischer, Irene Pepperberg's "Alex & Me," and "Blindspot," co-authored by Jane Kamensky, are all included in the group's 2008 holiday book catalogue.
"In the sense that we have three authors all from Brandeis, I'd say that's pretty special," said NEIBA Executive Director Steve Fischer.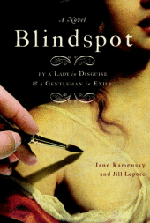 It's a special honor indeed, given that 1.3 million copies of the catalogue, which this year includes such acclaimed authors as Michael Chabon, John Updike, Nick Hornby and Julia Glass, are inserted in local newspapers and distributed to more than 300 bookstores throughout the region. Someone has to think pretty highly of a title for it to land on the list: publishers can buy ad space to promote books they feel strongly about, and NEIBA member stores can make suggestions for titles they think should be included.
Fischer said he also keeps an eye out for books he would like to see in the catalogue. One of his current favorites is "Blindspot," the historical novel that Brandeis history professor Jane Kamensky penned with her friend and fellow historian Jill Lepore. The writing team tells the story of an exiled Scottish portrait painter who becomes involved in an unexpected romance and a murder investigation when he flees to Boston in 1764. "I'm having a lot of fun reading it," Fischer said. "It's historical, it's wonderfully written, and I think it just makes a great gift."
Kamensky told BrandeisNOW that she felt privileged to be in the catalogue. "In these constrained economic times, independent booksellers are, more than ever, my heroes," Kamensky said. "As we fret over the death of the printed word, they steer readers toward books that matter.  My co-author Jill Lepore and I are honored that 'Blindspot' is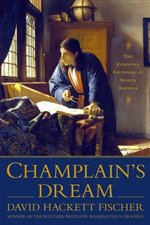 featured among their holiday choices."
David Hackett Fischer also looks to the past in his latest offering, "Champlain's Dream." This time, the Pulitzer Prize-winning historian focuses on Samuel de Champlain, the adventurer who became the founder and first governor of New France, which is modern-day Quebec. Given all the accolades that Fischer has received for his earlier books, Steve Fischer said it's no surprise that he ended up on the list with this latest biography. "It was a surefire thing that if David Hackett Fischer had a book on almost any subject in the fall, it probably would have gone into the catalogue," Fischer said. "But one where the subject matter is of regional interest, it's just a great combination of things."
A third Brandeis faculty member, Irene Pepperberg, reflects on a piece of her personal history in "Alex & Me," a memoir of her friendship with Alex, the African Grey parrot she worked with for 30 years in her groundbreaking research on animal cognition. While the pair's story is well known on campus, Fischer feels having it in NEIBA's holiday catalogue helps to give the book a higher profile throughout New England. "I think the book had a natural market for people who knew the story," he said, "and I think the publi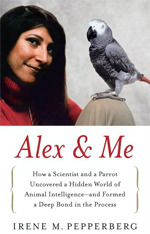 sher from day one was determined to do the best they could for this book." While the publishing house support is certainly helpful, Pepperberg's compelling story of this unique human-animal bond has been selling itself: not only was Alex and Dr. Pepperberg's relationship the subject of a recent ABC News story, but New York Times book critic Michiko Kakutani named it one of her 10 favorite books of 2008.
The recognition doesn't surprise Steve Fischer, who finds that NEIBA's annual list often parallels critical picks. "At the end of the year, when we look back at what books made it into the 'best of' roundups, our catalogue tends to be spot on. And I think it's great that this year, the authors of three books in our catalogue are at Brandeis."
You can hear more about "Blindspot" and "Alex & Me" at Meet the Author events scheduled for the spring 2009 semester. Irene Pepperberg will the featured author on January 21 and Jane Kamensky and Jill Lepore will be the featured authors on April 22. Both events will be held at 4 p.m. in Rapaporte Treasure Hall.     


Return to the BrandeisNOW homepage