Student chorus' tour of Germany to include Dachau visit
Thirty members of Brandeis University Chorus to participate in first international tour for a student music ensemble
WALTHAM, Mass. – Thirty students and members of the Brandeis University Chorus will soon get the chance to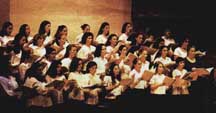 perform a memorial service within the grounds of the Dachau concentration camp, located just outside of Munich. Created by the Nazis in the 1930s and liberated by American forces in 1945, Dachau was one of the most widely known concentration camps of the Holocaust. It's estimated that more than 20,000 prisoners died at the camp, although the total number may never be known.
The Dachau visit is one stop during a weeklong international tour of Munich and Salzburg, Austria. The trip, under the direction of James Olesen, professor of music, will take place from Feb. 17-24 and is believed to be the first international tour of any student music ensemble at the university.
According to Nicholas Brown '10, tour manager, the goals are to share music and the Brandeis community internationally while learning about foreign cultures. The chorus will perform works of the German and Austrian traditions, the American tradition, the Jewish tradition, and music by Brandeis composers. They will present five concerts in Munich and Salzburg at venues including Frauenkirche and Wieskirche in Munich, and the Salzburg Dom, the cathedral of Salzburg.
"These performances and musical exchange with the people of Germany and Austria serve Brandeis' goal of continuing to be a global university and community that is instrumental in academic, political and social progress in the United States and around the world," Brown said.
The students will also have the opportunity to explore and learn about German and Austrian cultures through professionally guided tours and visits to historical and cultural locations. The educational portion of the trip culminates with the visit to Dachau, giving the chorus members a once-in-a-lifetime opportunity to reflect on the history of the Jewish people and their plight during World War II, while recognizing the importance of the Jewish community in the conception and development of Brandeis.
This tour is funded in part by the participating students, with the assistance of fundraising efforts of a student committee and the Department of Music. For more information contact Brown at 617-222-0793 or at nabrown@brandeis.edu.
Return to the BrandeisNOW homepage