The Rose Art Museum receives top honor at AICA New England ceremony
Rose exhibition "Balance and Power: Performance and Surveillance in Video Art" wins award
WALTHAM, Mass. -- The Rose Art Museum was honored Feb. 27 at the annual New England Chapter of the International Association of Art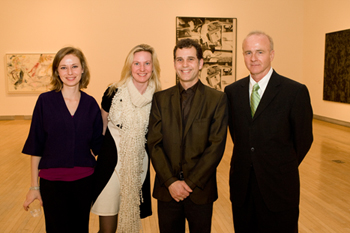 Critics (AICA) awards ceremony. The Rose, which hosted the event, was awarded the "Best Exhibition of Time-Based Art" for 2006-07 for the exhibition "Balance and Power: Performance and Surveillance in Video Art," curated by Michael Rush, the Henry and Lois Foster Director of the Rose. Exhibited in the fall of 2006, "Balance and Power" featured a look at artists' uses of surveillance techniques related to performance art and government spying systems through several video installations.
AICA has a membership of nearly 400 distinguished critics, scholars, curators and art historians. Each year the US section votes for the best exhibitions, and the New England chapter honors local efforts with its own ceremony.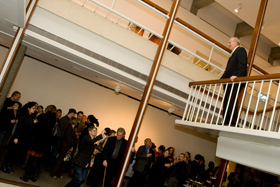 More than 130 AICA members and guests toured the current exhibitions at the Rose (Environments and Empires, Broken Home: 1997/2007 and Arp to Reinhardt: Rose Geometries) and attended the awards ceremony. The ceremony was hosted by Francine Koslow Miller, director of AICA New England, and Rush. In total, more than 20 awards were given out in several categories such as Best Historical Group Museum Show, Best Thematic Museum Show and Best Architecture or Design Show.
Return to the BrandeisNOW homepage