Valentine's Day treat of Russian folk music at Brandeis
Concert is part of "Russian Week 2008"
WHO:
Russian folk trio "Zolotoy Plyos" will perform a special Valentine's Day concert called "Russian Folk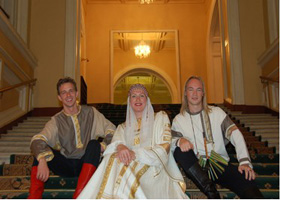 Kaleidoscope: An Evening of Russian Folk Music and Song."
WHAT:
Experience Valentine's Day "Russian style" with a concert filled with folk songs about love. On Feb. 14, the Dept. of German, Russian and Asian Languages & Literature will bring "Zolotoy Plyos," a Russian folk trio, to Brandeis.
"Learning about folklore traditions of a different culture gives us an opportunity to connect the present of this culture with its past, and to better understand its history," said Irina Dubinina, lecturer in Russian and director of the Russian Language Program.
The group's repertoire includes songs from many different regions of Russia. Members perform in authentic folk costumes and play numerous traditional Russian instruments, including the treshchetka, balalaika, garmoshka and lozhki.  Altogether, they play 25 different folk instruments. On stage they are mesmerizing, funny, dazzling, personable and are known to discuss Russian folk art traditions during each performance.
Founded in 1994, the group has performed in Russia, Belgium, Holland, Luxembourg, Germany, Portugal and the US. All three members are graduates of the famous Saratov Conservatory in Russia, and are prizewinners in several folk music contests. The trio has also performed at a number of US colleges and universities to rave reviews.  For a sample performance visit: http://www.wm.edu/modlang/russian/plyos.php 
To help audience members better appreciate the use of traditional Russian instruments, the trio will also participate in a public workshop. The workshop will cover how to play some of the instruments, such as lozhki-wooden spoons, from 5:30 to 6:30 p.m. on Feb. 14th, also in the Shapiro Theater.
The event is made possible by generous support from several departments and programs including the Dept. of German, Russian and Asian Languages and Literature, the Program in Russian and Eastern European Studies, the Dept. of Music, the Dept. of Theater Arts, the Dept. of International and Global Studies, the Dept. of Anthropology and the Program in Cultural Production.
The concert is one of several events featured during Russian Week 2008 at Brandeis.  In addition to the concert, there will be a screening of a new Russian romantic comedy called "Piter-FM," which is set in beautiful St. Petersburg  (Feb. 11, 8 p.m. Shiffman 216). There will also be a chance to hear about Russia's current political and social climate on the eve of presidential elections with a lecture by a journalist/sociologist Ada Baskina (Feb. 12, 5:30 p.m., Golding 110).  All events of the Russian Week 2008 at Brandeis are free and open to the public. 
For more information visit
http://www.brandeis.edu/departments/grall/russian/news_events.html
or contact Dubinina at 781-736-3223 or idubinin@brandeis.edu.
WHEN:
Feb. 14, 7:30 p.m.
WHERE:
Shapiro Theater, Shapiro Student Center, Brandeis University, 415 South Street, Waltham, Mass.
Return to the BrandeisNOW homepage