SunDeis '08 marks fifth anniversary with a "first" (March 15-16)
Student Film Festival will hand out first ever alumni achievement award during two-day event
WHO: Actor and Brandeis alum Tony Goldwyn '82 will receive the Alumni Achievement Award during the SunDeis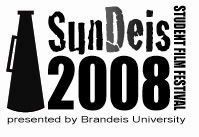 Film Festival

WHAT: This year student organizers of Brandeis' SunDeis Film Festival, an annual event spotlighting student filmmaking, will also honor a distinguished "one of their own." Actor Tony Goldwyn '82 will receive the first SunDeis Alumni Achievement Award ever given in the history of the five-year old festival.

"I'm really excited to celebrate the achievements of our alumni," said Alumni and Friends Chair Cindy Kaplan '08.  "It's incredible for student filmmakers to see people who have made it in the industry, and who really have started out exactly like them.  Tony Goldwyn has done some amazing work, so I'm proud that he's our first recipient.  He's a great first choice for this award."

Goldwyn is probably best known for the role he played as the villain in "Ghost" (1990), opposite Demi Moore and Patrick Swayze. He also starred as Neil Armstrong in the HBO miniseries "From the Earth to the Moon" (1998), provided the voice of the lead character Tarzan in Disney's "Tarzan" (1999) and played Tom Cruise's rival in "The Last Samurai" (2003).  He directed the 2006 film "The Last Kiss," starring Zach Braff, Jacinda Barrett, Casey Affleck & Rachel Bilson.

The two-day festival (March 15-16) offers a forum for student filmmakers to showcase their work and interact with people who have succeeded in various sectors of the film industry, including many Brandeis alumni. Dozens of student filmmakers have submitted films from around the world including Portugal, Canada, Brazil, Austria, Chicago, New York, North Carolina and several New England states. They will showcase their work throughout the weekend and the best student films will be announced at the red carpet awards ceremony on Sunday, March 16, along with the alumni achievement award.

This year there are three new opportunities for student filmmakers to compete. New categories include "unfilmed screenplays" and "best alternative film," for films made with non-traditional equipment such as cell phone cameras.  Also new this year is the 48-hour film competition. This category challenges students to follow certain filmmaking requirements announced by the SunDeis committee, such as a specific line, location or costume, to create the film. Students have 48 hours to script, shoot and edit the film, which should include as many of the special requirements as possible.
On the first day of the festival students and guests will have the opportunity to learn from professionals during the "Alumni and Friends panel." This year's participants include Ann Carol Grossman '69, a documentary filmmaker, Jane Paley Price '69, a producer, Andrew Slack '02, co-founder of a sketch comedy group and the Harry Potter Alliance, and Michael Jacobs P'10, creator/producer of "Charles in Charge," "Dinosaurs" and "Boy Meets World."  Following the panel will be a special screening of "The Last Kiss" and a Q&A session with Goldwyn.

On the second day there will be a panel on the future of film with Brandeis professors, Slack and Sam Weisman MFA '73, a stage, movie and television actor and director.  Following this panel, there will be a special screening of Rhode Island-based writer/director/producer Michael Corrente's "Outside Providence" (1999), starring Alec Baldwin, followed by a Q&A session.

SunDeis is free and open to the public. Visit www.brandeis.edu/sundeis for the latest on the SunDeis schedule.

WHEN: March 15 and 16; Awards Ceremony begins at 7:30 on the 16th.

WHERE: Shapiro Campus Center, Brandeis University, 415 South Street, Waltham, Mass.


Return to the BrandeisNOW homepage