Lydian String Quartet to focus on Middle Eastern themes during performance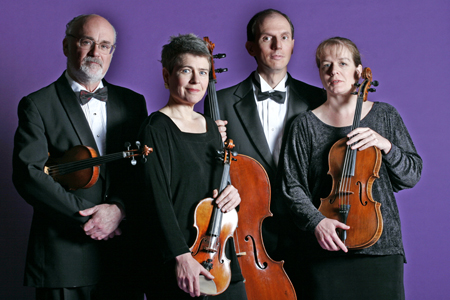 WHO: The Lydian String Quartet will perform the music of Beethoven, Reza Vali and Leo Ornstein in the "Around the World in a String Quartet" concert series.

WHAT: Middle Eastern themes are next on the quartet's agenda as the group continues to travel "Around the World in a String Quartet." The series allows the musicians the chance to go beyond traditional European string quartet music and explore a global range of pieces. The group, professors of the practice at Brandeis University, includes Daniel Stepner and Judith Eissenberg, violins; Mary Ruth Ray, viola; and Joshua Gordon, violoncello.

Beethoven's Quartet in C Minor, Op. 18, No. 4 features "Alla Turca" modes and rhythms. In Leo Ornstein's epic String Quartet No. 2, the Ukranian-American composer characteristically integrates Eastern European additive meters and non-traditional harmonies with the full richness of the string quartet texture. Iranian composer Reza Vali (who will be in attendance and will speak about his quartet) builds a complex mosaic out of traditional Iranian tunings and rhythms.

Advance tickets are $20, $10 students / seniors. Tickets at the door are $25, $15 students / seniors. For more information, visit www.brandeis.edu/departments/music/ or call (781) 736-3400 for tickets.

WHEN: The concert will take place on Sat., Feb. 2, at 8 p.m. It will be preceded by a talk with Iranian composer Reza Vali at 7 p.m.

WHERE: Slosberg Recital Hall, Brandeis University, 415 South St., Waltham, Mass.

ABOUT THE LYDIAN STRING QUARTET: Members of the Lydian String Quartet are professors of the practice at Brandeis. For more than 25 years, the group's exquisite artistry has inspired worldwide critical acclaim. The quartet's interpretive mastery of such traditional repertoire as Haydn, Schubert, Beethoven and Ravel--along with their special flair for contemporary music--has earned them international accolades, including the prestigious Naumburg Award for Chamber Music.

The Lydians have concertized extensively throughout the United States at venues such as Lincoln Center, Weill Recital Hall, Jordan Hall, the Library of Congress and the Kennedy Center. Internationally they have performed in England, France, Italy, Canada, Germany, Switzerland and Russia. 

Essential to the spirit of the Lydians is the commissioning and recording of new works. Their five-year project, "American Originals," celebrated the rich repertoire of the 20th-century American string quartet. During that time they performed or recorded more than 60 works of American composers. With education as an integral part of the quartet's mission, the Lydians have conducted mini-residencies in communities and universities throughout the United States.


Return to the BrandeisNOW homepage