Creating Art, Promoting Change: Works by Jewish Women
A new weekly planner produced by the Hadassah-Brandeis Institute showcases activist artwork by Jewish women.
WALTHAM, Mass. – "At this moment, I see the arts as one of the most profound tools for social change," said Beverly Naidus, artist and activist whose quilt-like image "Half-Jewish" colorfully fills the cover of a new weekly planner presented by the
Hadassah-Brandeis Institute
(HBI) at Brandeis University.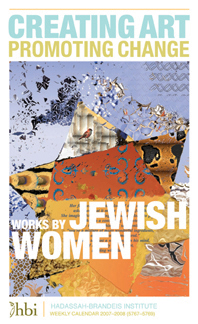 "Creating Art, Promoting Change: Works by Jewish Women" features 16 artists from around the globe who embody the spirit of activism. The 16-month planner (September 2007-December 2008) highlights contemporary issues ranging from the environment (Tamar Hirschl) to the tensions between secular and Jewish law (Ayana Friedman) and intermarriage (Beverly Naidus), and the role these activist artists have played in breaking barriers and producing positive social change.
Provocative and full-color glossy photos are accompanied by inspiring biographies about each woman's art and life. The vibrant visual artworks selected for the calendar embrace a rich range of media, from corten steel sculpture and needlework, to sprayed acrylic painting on canvas and public artwork created from recycled materials.
The calendar features leaders of the feminist art movement, including Judy Chicago and Miriam Schapiro, as well as rising stars of the international art world like Swiss Israeli artist Ariane Littman-Cohen and Indian Jewish artist Siona Benjamin, whose work "Finding Home" uses influences of Indian paintings, Byzantine icons, and Jewish and Christian religious art to explore identity issues. Louise Nevelson, a renowned abstract sculptor whose career retrospective is currently on exhibit at the Jewish Museum in New York City, is also a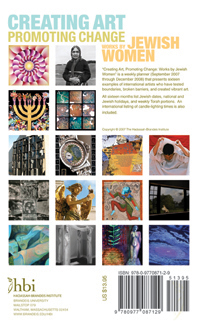 highlight.
"Jewish women around the world are working in the domain of activist art. In fact, some, such as Mierle Laderman Ukeles, should be credited as founders of this art genre," said Shulamit Reinharz, the Jacob S. Potofsky Professor of Sociology and founding director of the Hadassah-Brandeis Institute. Previous HBI wall calendars, such as "Jewish + Female = Athlete," were designed to challenge Jewish and gender stereotypes. Each calendar is both an aesthetic piece and a teaching tool.
The launch event for "Creating Art, Promoting Change: Works by Jewish Women" will take place on Aug. 23 from 2-6 p.m. at the Hadassah-Brandeis Institute, 515 South St., Waltham, Mass. The event will begin with a community art painting project, followed by a discussion with the featured artists in attendance at 4 p.m. and an artists' signing. The event is free and open to the public. RSVP to rlandman@brandeis.edu or 781-736-8114.
"Creating Art, Promoting Change: Works by Jewish Women" is available for purchase for $13.95 plus shipping and handling. Please visit the Hadassah-Brandeis Institute website for ordering information, or contact the HBI at hbi@brandeis.edu or 781-736-8114.
High-resolution images are available upon request.
About the Hadassah-Brandeis Institute (HBI)
The Hadassah-Brandeis Institute (HBI) develops fresh ways of thinking about Jews and gender worldwide by producing and promoting scholarly research and artistic projects. In 2007, its 10th anniversary year, the HBI has hosted an exhibit of Jewish Scottish artist Hannah Frank, introduced 614: The HBI eZine, and launched the HBI Project on Gender, Culture, Religion, and the Law.
Return to the BrandeisNOW homepage