Volleyball, women's soccer claim ECAC crowns
Wingenbach, Castel named tournament MVPs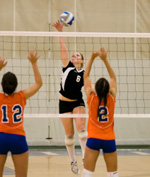 For the second year in a row, the fall athletic season has produced two ECAC Division III New England championships. Coach Michelle Kim's volleyball squad posted a school-record 28 wins in defending their crown, while Denise Dallamora's women's soccer team didn't allow a goal in their first-ever ECAC title run.
On the volleyball court, the Judges went 28-10 this season thanks to the play of junior outside hitter Lorraine Wingenbach. The tournament MVP, who was named the volleyball program's first-ever All-American earlier this week, averaged nearly six kills per game and had a .270 hitting percentage as the Judges swept Plymouth State University, Keene State College and Colby-Sawyer College. First-year setter Abby Blasco also took home hardware this season, earning University Athletic Association Rookie of the Year honors. Brandeis finished the season fourth in the UAA, matching their second-best finish of all time.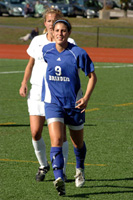 On the women's soccer field, Dallamora's squad posted a 13-6-2 record for the season. They blanked Emerson College, 3-0; MIT, 1-0; and Keene State College, 2-0, shutting down some of the top offensive players in the region in the process. Senior forward Tzlil Castel was named tournament MVP after scoring the game-winning goals in the semifinals and finals. Castel scored half of the team's goals in the tournament and ended up leading the team in scoring with 10 goals. Classmate Sarah Jasak, a forward, and sophomore midfielder Melissa Gorenkoff were both named second-team All-UAA.
Return to the BrandeisNOW homepage