Greening Brandeis
Campus environmental group outlines sustainability progress and calls on every community member to contribute.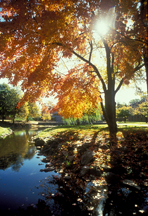 WALTHAM, Mass. – As interest grows from all corners of the Brandeis community to lessen the university's environmental impact, the Brandeis Environmental Sustainability Team (BEST) is beginning a campaign to promote individual environmental responsibility on campus, while at the same time moving forward on campus-wide sustainability initiatives.
"This is a call to action for everyone on campus – students, faculty and staff – to bring renewed energy to environmental conservation efforts. We all need to think hard about how our consumption of natural resources impacts the environment," said Professor Laura Goldin, associate director of the Brandeis Environmental Studies Program and chair of BEST, a collaborative environmental working group of students, faculty and staff.
Individual efforts are more important than ever, Goldin said, now that President Jehuda Reinharz has signed the American College & University Presidents Climate Commitment, a national effort to neutralize greenhouse gas emissions on campuses.
"The Climate Commitment is a clear statement that we at Brandeis take seriously our responsibility for climate protection, and plan to move toward becoming increasingly climate neutral," Goldin said. "But there is a lot of hard work to be done, and it requires individual commitment and cooperative effort by the entire Brandeis community."
As part of the Climate Commitment, Brandeis will take immediate steps to further reduce greenhouse gas emissions. Brandeis Energy Manager Bill Bushey, students and faculty are already working on a comprehensive emissions inventory. The university will also hire a sustainability coordinator to oversee environmental sustainability operations on campus. By September 2009, the university will have an action plan for becoming climate neutral by eliminating campus-related greenhouse gas emissions or offsetting them in available ways. The plan will include a target date and interim goals.
"The Climate Commitment is an excellent example of students and administrators rising to the challenge of demonstrating greater social responsibility," said Jamie Pottern '09, co-president of Students for Environmental Action (SEA). "SEA members generated widespread awareness and student support for the commitment, and successfully channeled that energy into a collaborative university effort."
Impressive progress has already been made to reduce energy use and improve the university's environmental footprint due to the collaborative efforts of the Office of Capital Projects, Facilities Services, Dining Services, students, faculty and others involved in BEST.
Energy and greenhouse gas emissions have been significantly reduced through Brandeis' $25 million Infrastructure Renewal Project and the Energy Savings Program. Natural gas consumption in fiscal year 2007 was 20 percent below that of fiscal year 2004, and electricity consumption in fiscal year 2007 was 8 percent below that of fiscal year 2004. In 2008, 15 percent of the university's electricity supply will be Green-E certified wind power. The university has also filed for a permit to install a meteorological tower to investigate the feasibility of a campus wind turbine.
Brandeis has also made a concerted effort to raise the energy conservation awareness of students, faculty and staff with an array of energy savings awareness initiatives including "turn off the lights" dorm competitions, energy "dorm raps," low-energy light bulb exchanges and demonstration events, and ongoing campus events focused on energy reduction, alternative energy and climate change.
Academic opportunities related to environmental issues are also growing. A new major in environmental studies was announced this year, and the university offers courses on a variety of issues from the role of wetlands and global warming to environmental conflict and collaboration. In Professor Goldin's "Greening the Ivory Tower" course, students examine the environmental footprint of campus activities and design and implement projects to reduce that footprint. This spring the class will move beyond the campus to collaborate on environmental sustainability projects with the Waltham community.
As part of the university's commitment to environmental sustainability, the Office of Capital Projects has adopted green building principles and taken a comprehensive approach to environmental sustainability in new buildings and renovations, according to Dan Feldman, vice president for capital projects.
The Irving Schneider and Family Building, which opened in October 2006, was designed for maximum energy efficiency and constructed with materials chosen for durability, renewability and low toxicity. The new Ridgewood Residence Halls will have many of the same green design features including recycled and recyclable materials, locally manufactured materials that reduce energy use for transportation, high-efficiency glazing, dual-flush toilets, low-flow shower heads and zero- and low-VOC paints and adhesives.
New buildings on campus will also meet the U.S. Green Building Council's standards of certification known as Leadership in Energy and Environmental Design (LEED) standards.
Since early 2007, dining hall waste has been composted, and the university expects to compost 405 tons of trash in the first year. All dining halls serve fair-trade coffee and use recycled napkins. Dining Services, which uses recycled office paper, has also worked closely with students in the "Greening the Ivory Tower" course and SEA to feature locally-grown food, vegetable-based, recyclable take-out containers and biodegradable smoothie cups, and to promote refillable mugs and water bottles.
"SEA members are actively and enthusiastically involved in education and outreach in several areas related to environmental issues, including energy conservation, pollution, global warming, recycling and green building," said Stephanie Sofer '09, co-president of SEA and student sustainability champion for Dining Services. "Initiatives like the dorm energy competitions and partnerships with local schools to teach environmental awareness to youth have all proven to be very successful."
Grounds staff have also reduced the use of pesticides through Integrated Pest Management techniques and planting of naturally disease- and pest-resistant tree and shrub varieties. In collaboration with Grounds staff, students in the "Greening the Ivory Tower" course have planted blueberry bushes and other native species to create protective buffer zones around the Chapels Field and Sachar Woods wetlands.
Information about other student projects and the groups involved in this effort can be found on the BEST Web site. Members of the Brandeis community are welcome and encouraged to submit suggestions for greening efforts to goldin@brandeis.edu.
Return to the BrandeisNOW homepage