Conference bridges divide between academia and Jewish education
International conference at Brandeis on teaching rabbinic literature brings academics and classroom teachers together to share ideas and develop new research questions
WALTHAM, Mass. – Jewish studies professors, rabbis and day school teachers who share a common goal of improving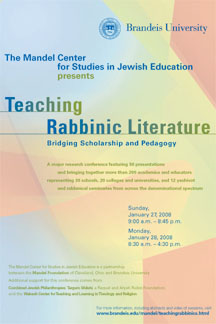 Jewish education, will meet Jan. 27-28 at Brandeis for a major conference on "Teaching Rabbinic Literature: Bridging Scholarship and Pedagogy." The event, organized by the Mandel Center for Studies in Jewish Education at Brandeis, invites academics and practitioners to learn from one another on panels and in working sessions. This format, which will bring educators of all levels together, is considered a "cutting edge" practice in general education, and is new to Jewish education.
"The enormous response to this conference shows how eager Jewish educators are to have this kind of interaction with colleagues," said Jon A. Levisohn, conference chair and assistant academic director of the Mandel Center for Studies in Jewish Education. "These educators are passionate about teaching Talmud and mishnah and midrash, but have very few opportunities to think and talk and study the substantive issues in their teaching. This conference will help us bridge the divide between schools, synagogues, universities and yeshivot."
An international group of more than 200 teachers of rabbinic literature from colleges and universities, Jewish day schools, yeshivas, institutes of advanced Jewish studies, synagogues, adult education and informal educational settings will attend the event, which features presentations with outstanding teachers of rabbinic literature from diverse settings and multiple levels.
There will be 60 presenters over the course of two packed days, in sessions focused on teaching rabbinic literature in day schools, adult education settings, rabbinical schools, and synagogues. The emphasis will be on questions and joint inquiry, rather than tips and techniques. This conference follows an earlier Mandel Center conference in 2005 on teaching Bible.
"The focus of the conference is very important," said Lee S. Shulman, president of the Carnegie Foundation for the Advancement of Teaching. "Rabbinic literature is arguably the most central body of text in the Jewish tradition. The talmudic and midrashic sources are the pivots around which Jewish learning is organized." He adds that there is very little research or scholarly work on the teaching of rabbinic literature and that the initiative "promises to move the area…to the beginnings of a significant field of study."
Sponsors of the event include the Wabash Center for Teaching and Learning in Theology and Religion (based in Indiana); Targum Shlishi, a Raquel and Aryeh Rubin Foundation; and Combined Jewish Philanthropies of Greater Boston. An anonymous foundation contributed funding to support the video documentation of conference sessions and the dissemination of those videos on the web.
Registration is full and a waiting list has been formed. For more information on the conference visit
http://www.brandeis.edu/centers/mandel/TeachingRabbinics.html
. Videos will be available online soon after the conference.
About the Mandel Center
Founded in 2002 as the first academic center of its kind, the Mandel Center for Studies in Jewish Education is dedicated to transforming the quality of teaching and learning in Jewish education by supporting innovative research, pioneering new approaches to professional development and shaping discourse about the purposes and practices of Jewish education. More at http://www.brandeis.edu/mandel.
About the Mandel Center's Bridging Initiative
The Initiative on Bridging Scholarship and Pedagogy in Jewish Studies promotes the improvement of the teaching of Jewish studies in multiple settings, through research by and critical dialogue among scholars and teachers. More at
http://www.brandeis.edu/centers/mandel/bridginginitiative.html
.
Return to the BrandeisNOW homepage