Free author event (Wednesday, Feb. 27) to explore issue of secrecy
Brandeis University Meet the Author

Wednesday, February 27, 2008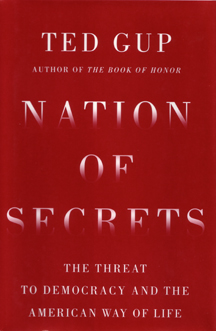 4 to 5 p.m.
Multipurpose Room
2nd floor, Shapiro Campus Center

Amid the right to know and the need to know there is secrecy. But when does it stop protecting us and become a threat itself?

Nation of Secrets: The Threat to Democracy and the American Way of Life
By Ted Gup '72
"A sobering survey of the new culture of secrecy, which has spread from government to industry to academia and, it seems, to everyday life. Spot on."
    –Kirkus Reviews

Presented in association with the Schuster Institute for Investigative Journalism.

Free and open to the public. Refreshments will be served.
Bring a friend. Buy a book. Have it signed.

Return to the BrandeisNOW homepage