Award-winning "The History Boys" gives Brandeis top honors
Production to feature special special Brandeis night on June 10
Labeled "a marvelous Boston premiere of a wise and rewarding play" by the Boston Globe, Alan Bennett's "The History Boys" is also making history with its ties to Brandeis. The show, on stage through June 22 at the Calderwood Pavilion, is directed by Scott Edmiston, director of the Brandeis Office of the Arts, and features '08 grads Sheldon Best and Samson Kohanski, as well as current student Mohit Gourisaria ('09).

The Tony-Award winning tale surrounds eight British high school students who all dream of continuing their education at Oxford or Cambridge. The headmaster hires a young, hotshot teacher to help the students spice up their applications. Rivalry brews between the newcomer and the school's established and beloved English teacher who believes in more traditional teaching methods.

"The values and culture of Brandeis really helped shape my understanding the play," according to Edmiston.  "The central theme is that, as A.E. Houseman wrote: 'All knowledge is precious.' Essentially, that is the philosophy behind a liberal arts education. At Brandeis we aren't just interested in putting our students on a proscribed career path.  Like the teachers in "The History Boys," we are committed to helping them become well-rounded human beings with knowledge that will serve them throughout their lives."

Edmiston, who has received two Elliot Norton Awards for his work as a theatre director, auditioned 150 young actors from the Boston area and beyond to fill the student slots. He wound up casting three Brandeis students because "they were smart and engaging and were the best people for the role." The entire group, he says, has great chemistry on and off stage.

"I told them it was their professional responsibility to enjoy each other and to bring that type of energy to the production and they really took me seriously," he said. "They've become great friends. I think the audience feels that and knows they're experiencing something really special." Gourisaria, who attended British boarding schools from the age of 4, acted as a consultant on the protocol of the education system and culture.  Kohanski turned out to be a talented musician as well as actor, so Edmiston gave him four musical numbers to perform in the production.

The success of the production, he says, is also due to efforts to make the Boston production unique with an original set concept. The set was designed by another Brandeis alum, award-winning designer Janie Howland MFA '93, who has collaborated with Edmiston for more than 10 years. Edmiston describes her set as "phenomenal," and the Jewish Advocate labeled it as "Broadway-quality."

"This play was an enormous success in London and New York," Edmiston said. "With the special personalities and talents of these actors, and the original set design, we've created a new production that's really fresh and distinctively our own. I think you could even say it is distinctly Brandeis." 

The production's run has been extended two weeks until June 22, and will feature a special Brandeis night on June 10 with discounted tickets and a talk by Edmiston before the curtain. For more information call Jim Torres at 617-482-3279 and mention Brandeis. For the complete production schedule visit www.speakeasystage.com. 
-Marsha MacEachern, Brandeis Office of Communications, 781-736-4203, marsham@brandeis.edu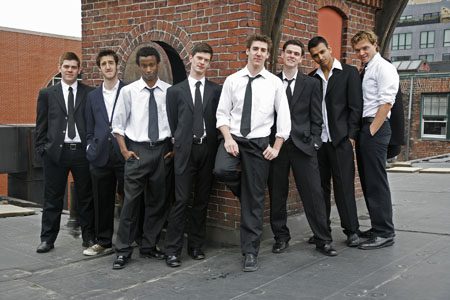 -"The History Boys" cast (Photo credit: Mike Lovett)
Return to the BrandeisNOW homepage