New adaptation of "The Orphan of Zhao" dramatizes traditional Chinese story of hope and survival
Brandeis Theater Company production will feature new score by music faculty member
"The Orphan of Zhao"
Traditional Chinese folktale adapted by Mia Chung
March 27 – April 6, 2008
Mainstage Theater
Directed by Eric Hill and Naya Chang, M.F.A. '08
Choreography by Susan Dibble
Original music composed by Yu-Hui Chang, faculty member
Performed by Jiebing Chen, erhu, and Yangqin Zhao, hammered dulcimer, and members of Brandeis University's Lydian String Quartet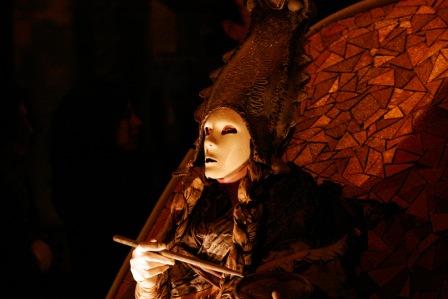 WALTHAM, Mass. -- The Brandeis Theater Company (BTC) will end its 2007-08 season with a premiere of a new adaptation of "The Orphan of Zhao" (March 27-April 6). Performances will feature original music composed by faculty member Yu-Hui Chang and performed by visiting artists Jiebing Chen (erhu) and Yangqin Zhao (hammered dulcimer), as well as Mary Ruth Ray (viola) and Josh Gordon (cello) of Brandeis's own Lydian String Quartet and Timothy Feeney (percussion).

The production, directed by Eric Hill, Barbara Sherman ('54) & Malcolm L. Sherman Professor of Theater Arts, and Naya Chang, a graduate student in theater arts, is a legendary folktale from the Far East surrounding the history of an important orphan.
 
The streets of Jin are awash in the blood of the noble Zhao clan after a vicious slaughter by the emperor. This cruel massacre ignites a succession of individual acts of virtue and sacrifice. The hope for retribution and a return to a humane social order is pinned to the survival of one orphaned baby boy adopted by Cheng Ying, who prepares her son to take his place in history. The timeless swing of the pendulum of justice, powered by the momentum of personal humanity, resounds in this stirring and resonant Chinese classic.

"The Orphan of Zhao" is made possible through generous support from the Jaffe Foundation, the Herbert and Kim Marie Beigel New Play Fund, the Ann '56 and Clive Cummis Family Foundation and the Poses Fund. For more BTC information log onto: http://www.brandeis.edu/btc/

The production is presented in partnership with the MusicUnitesUS program at Brandeis and features musicians also participating in the World Music Series and MusicUnitesUS programs. Musicians Chen and Zhao will take part in a three-day residency and bring their artistry and virtuosity to Brandeis March 29 for the MusicUnitesUS concert "Chinese Modulations." For a full residency schedule log onto: http://www.brandeis.edu/MusicUnitesUS/schedule-fall2007.html.

Location and Tickets

Brandeis Theater Company productions are performed in the intimate theaters of the Spingold Theater Center, located on the Brandeis University campus at 415 South St. in Waltham, Mass. Tickets are available at the box office or by calling 781-736-3400. For directions and more information, visit www.brandeis.edu/btc.

About the Brandeis Theater Company

Created in 2005, the Brandeis Theater Company is a model for training theater artists that is unique in the Boston area. The company is an ensemble of students, guest artists, faculty and staff of the Theater Arts Department committed to producing progressive, dynamic programming.


Return to the BrandeisNOW homepage