Jiebing Chen and Yangqin Zhao to perform timeless musical journey in "Chinese Modulations"
MusicUnitesUS concert on March 29 is part of three-day residency
MusicUnitesUS World Music Concert:
Chinese Modulations: Jiebing Chen and Yangqin Zhao
Saturday, March 29, 8 PM
Slosberg Recital Hall

WALTHAM, Mass. – Experience the timeless beauty of China in a journey down musical "silk roads." Musicians Jiebing Chen,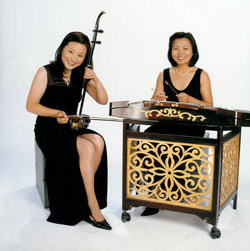 erhu (2-string vertical violin), and Yangqin Zhao, yangqin (hammered dulcimer), will bring their artistry and virtuosity to Brandeis March 29 for "Chinese Modulations."  Weaving ancient folk melodies into original compositions, the erhu, the Chinese two-stringed fiddle 'diva' of the East, and the yangqin, the hammered dulcimer, sing the story of an ancient civilization rooted in tradition and destined for change.

Chen and Zhao offer a program that ranges from the Chinese classical repertory to cross-cultural explorations spanning time and place. Both artists, whose musical narratives begin in their native China, have successfully extended the boundaries of their traditions with technical innovation and stylistic virtuosity. Chen and Zhao have lived in the US for the last 15 years.

The concert is part of Brandeis' MusicUnitesUS: World Music Concert Series. This popular series invites audiences from the Boston area and beyond to experience world cultures through the universal narrative of music.
The erhu's uniquely soulful and poignant voice, partnered with the lavish virtuosity of the yangqin, unite in an operatic journey through time and place. Spanning the Ming Dynasty to the present, each song sings a story and paints a vivid soundscape as the history and beauty of China is revealed through music.

"I've heard Jiebing and Yangqin in performance - the range of sound and emotion they create is awesome," said Judith Eissenberg, MusicUnitesUS director. "The opportunity to hear this music - the improvisational quality and the sheer beauty up this close - is not to be missed!"

Jiebing Chen's colorful musicality and interpretive skills have resulted in overwhelming international acclaim as a solo interpreter of her instrument. Awarded the highest honors in China, including first prize in the National Competition of Traditional Instruments in Beijing, she was the youngest performer to be named "National First Rank Performing Artist" by the Chinese government. Perhaps most compelling are her achievements as a cross-cultural performer. Chen has virtually reinvented the erhu for the 21st century, performing some of the most notable jazz and world music artists of our time. Her CD, Tabula Rasa, a collaboration with Bela Fleck and Vishwa Bhatt, was nominated for a 1996 Grammy Award for "Best World Music" album.

Yangqin Zhao, prophetically named after the instrument she has become famous for playing, has established herself as one of the foremost yangqin performers in the world. In 1982, the Chinese Ministry of Cultural Affairs held the first national competition for folk music instrumentalists. Zhao, playing her namesake instrument, won the highest award. Critics have praised the quality of her playing, comparing the surging momentum and tonal effect to that of a virtuoso piano performance.

The three-day MusicUnitesUS residency with Chen and Zhao offers a series of open classes, roundtable discussions, a public school education programs, film, workshops in calligraphy and improvisation, and concerts, all open to the public. Free pre concert talks before World Music Concerts are held at the Rose Art Museum from 7- 7:45 p.m. The talk, "The Dynamic Nature of Chinese Tradition," will be delivered by Yu Feng, (PhD, Renmin (People's) University of China, Beijing, 1988), associate professor of Chinese, and director of the Chinese Language Program at Brandeis. For a full residency schedule log onto: http://www.brandeis.edu/MusicUnitesUS/schedule-spring2008.html.

Location and Tickets
Chinese Modulations: Jiebing Chen and Yangqin Zhao will be held at 8 p.m. on March 29 in the Slosberg Recital Hall located on the Brandeis University campus at 415 South St. in Waltham, Mass. Tickets are $20/$10 and are available by calling 781-736-3400. Group rates are available. Subscribers attend one concert at half price. Subscribe to both the Lydian String Quartet and World Music Series for the greatest discount. For more information visit http://www.brandeis.edu/arts/concerts/tickets.html.

About MusicUnitesUS
MusicUnitesUS is a three-tiered program of Brandeis University that encompasses an "Intercultural Residency Series," a "Public School Education Program," and a "World Music Series." Since the program began in 2003, the mission has been to further the understanding and appreciation of diverse cultures through music.


Return to the BrandeisNOW homepage