The Rose featuring Alexis Rockman, artists of the post-Jewish generation and Odili Donald Odita
Rockman displays his first major U.S. museum solo exhibition
Spring/Summer 2008:
May 8 – July 27
Opening reception May 8, 6-8pm
Alexis Rockman: The Weight of Air
(Lois Foster Wing)
The New Authentics: Artists of the Post-Jewish Generation
(The Rose Building)
Paper Trail II: Passing Through Clouds, curated by Odili Donald Odita
(Herbert and Mildred Lee Gallery)

Click here to experience "Alexis Rockman: The Weight of Air" (VIDEO) 
WALTHAM, Mass. – Contemporary artist Alexis Rockman, the Ruth Ann and Nathan Perlmutter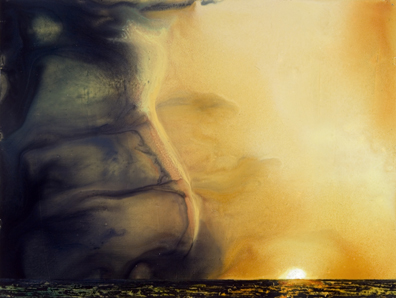 Artist-in-Residency, is known for creating information-rich scenes that offer socially charged predictions, including the future effects of genetic engineering and global warming. This spring, Rockman will share his latest pieces with the Rose Art Museum in his first major U.S. museum solo exhibition, "Alexis Rockman: The Weight of Air." The spring/summer season, opening on May 8 and continuing through July 27, will also feature "The New Authentics: Artists of the Post-Jewish Generation" and "Paper Trail II: Passing Through Clouds," curated by internationally known artist Odili Donald Odita.

Rockman's work is intricately crafted and offers surreal depictions of the relationship between nature and human culture. Over the past two years, he has been creating an extraordinary new body of works on paper that reveals a depth of experimental process resulting in a unique mix of beauty, feelings of wonder and encroaching catastrophe.

"Alexis Rockman: The Weight of Air" represents Rockman's debut of a looser, flowing style, more concentrated on artfulness than representational prowess. This will be Rockman's first solo museum show of works on paper and the first museum display of the artist's latest works. It will present approximately 50 new pieces, each of which addresses dramatic changes in the worldwide climate, as well as representative pieces from his early career that will contextualize his current paintings. A full color catalogue will complement the show with essays by Michael Rush, the Henry and Lois Foster Director of the Rose and curator of the exhibition, as well as Helen Molesworth, curator of contemporary art at the Harvard University Art Museums.

Rockman will receive the annual Ruth Ann and Nathan Perlmutter Artist-in-Residency Award on June 5. The award recognizes the Rose's traditional role of helping launch the careers of young artists, including Dana Schutz, Ellen Gallagher, Roxy Paine, Larry Rivers, Kiki Smith, and Frank Stella, through early recognition and support. The Perlmutters have been associated with Brandeis since the late 1960s, when Nathan served as vice president for development. Nathan went on to become national director of the Anti-Defamation League, and received the prestigious Presidential Medal of Freedom for his work. He died in 1986. Ruth Ann lives in Prescott, Ariz.


"The New Authentics: Artists of the Post-Jewish Generation" will feature works by 16 American artists who are prominent in the global contemporary art world, and will serve as a platform for raising important questions about cultural, ethnic and religious identity in the US today. The exhibition will examine how these artists are informed by their particular experiences as Jews and will address complex notions of Jewishness in American culture. Artists include: David Altmejd, Cheselyn Amato, Johanna Bresnick, Shoshana Dentz, Lilah Freedland, Matthew Girson, Karl Haendel, Laura Kina, Fawn Krieger, Jin Meyerson, Mindy Rose Schwartz, Collier Schorr, Ludwig Schwarz, Joel Tauber, Shoshanna Weinberger and Jennifer Zackin. The exhibition is curated by Staci Boris and organized by the Spertus Museum at the Spertus Institute of Jewish Studies in Chicago.

"Paper Trail II: Passing Through Clouds" is the second in a series of exhibitions in which artists integrate their own work with pieces they select from the museum's works on paper collection. The project offers the rare opportunity to showcase samples from more than 2,000 works on paper owned by the Rose Art Museum. Margaret Evangeline curated the first artist exhibition in 2007. Odili Donald Odita will be the featured artist/curator for "Paper Trail II."

Select artists for "Paper Trail II: Passing Through Clouds" will include Alice Aycock, William Baziotes, Alexander Calder, Jean Cocteau, Joseph Cornell, Emilio Cruz, Robert Cumming, Salvador Dali, Stuart Davis, Edgar Degas, Andre Derain, Nathaniel Dirk, Ellen Driscoll, Carroll Dunham, Elizabeth Erlanger, Margaret Evangeline, Ellen Gallagher, Gallo Giovanni, Giovanni di san Giovanni, Sidney Goodman, William Gropper, George Grosz, Wassily Kandinsky, Oskar Kokoschka, Sacha Kolin, Jacques Lipchitz, Willem de Kooning, John Marin, Anton Mauve, Ana Mendieta, Joan Mitchell, Kanome Miyamoto, Amedeo Modigliani, Robert Morris, Robert Motherwell, Claes Oldenburg, Roxy Paine, Bruce Pearson, Rembrandt Harmenszoon van Rijn, Bridget Riley, Diego Rivera, James Rosati, Georges Roualt, Sean Scully, Ben Shahn, Joel Shapiro, Nancy Spero, Kiki Smith, Leon Polk Smith, Pat Steir, Joseph Mallord William Turner, Andy Warhol, John Wilson, Terry Winters and Richard Yarde.

Odita is a Nigerian-born artist best known for his abstract paintings. Critic Gregory Volk has written that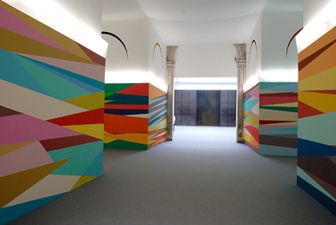 "Odita has earned a reputation for his colorful acrylic abstract paintings, in which slightly irregular bands, elongated triangles, stretched-out trapezoids and other off-kilter geometric forms extend horizontally across the support. While Odita's works have roots in patterned geometric abstraction, their choppy contours suggest both turbulence and organic growth. They also pull in hints of big landscapes, big skies, textile decorations and 'traditional' clothing from Odita's native Nigeria."

Odita has exhibited widely, including the 52nd Venice Biennale. He is an associate professor at Tyler School of Art in Philadelphia and a critic who has written for publications such as Flash Art and Nka, Journal of Contemporary African Art.

About the Rose Art Museum at Brandeis

Located on the campus of Brandeis University in Waltham, Mass., The Rose Art Museum was founded in 1961. Over the past 40 years The Rose has earned a considerable reputation for its collections and exhibitions. The collection contains significant holdings in post-War American art including iconic works by Jasper Johns, Robert Rauschenberg, Willem DeKooning, Roy Lichtenstein, Andy Warhol and numerous others.

The Brandeis art collection of approximately 6,000 objects is considered one of the most significant and comprehensive collections of modern and contemporary art in New England. During the past four decades, The Rose has organized landmark exhibitions including Bruce Conner's and Louise Nevelson's first one-person exhibitions (1965 and 1967 respectively), Frank Stella's Protractor Series (1969), the first US museum video art exhibition "Vision and Television" (1970), Helen Frankenthaler's work from the 1950s (1981), Kiki Smith' and Ellen Gallagher's first one-person museum exhibitions (1981 and 1993), and the award-winning "More than Minimal" (1996); Roxy Paine (2002); Barry McGee (2003), and "DreamingNow" (2004).

Image credits:
Orange Waterspout
18" x 24", 2007
Collection of Steve and Tyra Abrams
Courtesy of  Leo Koenig, Inc. New York NY
Ludwig Schwarz

Untitled (Wiggles #2), 2003

Oil on canvas, 60 x 84 in.

Courtesy of the artist, Dallas, and Angstrom Gallery, Los Angeles

Odili Donald Odita
"Give Me Shelter," 2007
Acrylic latex wall paint, colored pigment on wall
708.66 inches (1800 cm) length x 711.02 inches (1806 cm) width x 236.61 inches (601 cm) height
Courtesy of the Artist and Jack Shainman Gallery, New York; with support of The International Council of the Museum of Modern Art, New York.
Photo credit: Giovanni Pancino
 
Return to the BrandeisNOW homepage