VoiceMale earns "All A Cappella Champion" title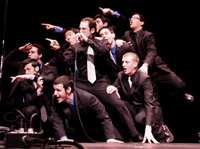 WALTHAM, Mass. -- VoiceMale, one of Brandeis University's student-run a cappella groups, was recently crowned the champion of WERS 88.9FM's "All A Cappella Live at the Cutler-Majestic 2008" on March 15th in Boston, solidifying the group's place as one of the best in the Northeast.

The group of nine men, who performed for a live audience of more than 1,000 and a radio audience of approximately 10,000, earned the popular vote of a cappella fans in the audience, winning the title over UMass-Amherst's Doo-Wop Shop and last year's defending champions, the MIT Logarhythms. 

Following the victory, VoiceMale returned the following day to the Cutler-Majestic Theatre at Emerson College as the opening act for internationally renowned a cappella sensation, Rockapella.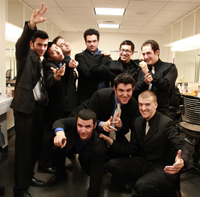 VoiceMale was founded in 1994, and its members travel nationwide performing an eclectic mix of rock, pop, jazz, R&B and oldies at colleges, high schools and a variety of private functions. VoiceMale's latest albums, Propeller (2003) and Ain't Done Overnight (2006), won Best of College A Cappella (BOCA) appearances and multiple Contemporary A Cappella Recording Awards (CARA), including one for Best Male Album of the Year.

 VoiceMale has recently taken advantage of several new opportunities, including traveling to Scottsdale, Ariz. to teach and perform for a collection of schools and venturing on their biennial East Coast tour (extending as far south as Chapel Hill, North Carolina). The group is now in the process of recording its next studio album, which is expected to be released in the fall of 2008.

For more information visit www.brandeisvoicemale.com/
*Photos by Jessica Teller

Return to the BrandeisNOW homepage