Basketball teams to play in NCAA Division III tournament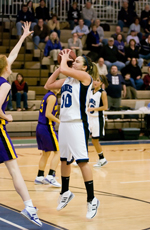 For the second year in a row, the Brandeis basketball teams will be playing in the NCAA Division III tournament. This is the third straight at-large bid for the women, and the second for the men. Both will be playing in the opening round on Friday, March 7.
The women, who finished at 18-7, 9-5 in the UAA will travel to Kean University in Union, N.J., where they will take on 13th-ranked Southern Maine, with a record of 25-3, 13-1 in the Little East Conference. That game time is still to be announced.
The men, who earned the right to host an NCAA tournament game for the first time in 30 years thanks to their 20-5 record (10-4 UAA), will take on local rival Lasell, with a 20-8 record, 14-4 in the Great Northeast Athletic Conference. They will play in Auerbach Arena at 8:00 p.m. The other first-round game in Waltham will pit Bowdoin College and Curry College at 6 p.m.
On the women's side, Brandeis is led by senior guard Jaime Capra of Old Bridge, N.J. Capra, a two-time first-team All-UAA selection, leads the team in scoring at 14.7 points per game, and rebounding with a career-best 6.8 boards per game. Capra ranks third on the Judges' career scoring list with 1,349 points, just three points out of second place. She also ranks in the Judges' top-10 in rebounding (7th, 550), assists (9th, 209), 3-pointers (T3rd, 99) and free-throw percentage (5th, .743). Junior forward Lauren Orlando of Peabody, Mass., is second on the squad at 11.4 points per game, while sophomore guard Jessica Chapin of Mendon, N.Y., at 10.6 points per game gives the Judges a third player scoring in double figures. Senior Kiersten Holgash of Easton, Pa., leads the squad with 3.3 assists per game, fifth in the UAA, while her 2.08 assist-to-turnover ratio was among the top 20 in the nation. Overall, the Judges, who recently earned head coach Carol Simon's 300th career win in a 63-60 win over New York University, own a 5-4 record against teams in the tournament field. They split with each of the other three conference opponents in the field, with each team winning on its home court. The Judges also won at Emmanuel College and Wheaton (Mass.) College, while falling to Tufts University.
For the men, the Judges are paced by senior Joe Coppens of Rockland, Mass., a 1,000-point scorer whose 140 career 3-pointers are fourth in school history. Classmate Kwame Graves-Fulgham of Amherst, Mass., is second in career assists (446), needing just eight more to become the Judges' all-time leader, and third in steals (145). Six different Brandeis players have posted 20-point games this season, paced by Coppens and sophomore forward Terrell Hollins of Springfield, Mass. with five each. Sophomore Andre Roberson of Springfield, Mass., and junior Kevin Olson of Rockport, Mass., both guards, have done it twice, while Graves-Fulgham and senior forward Stephen Hill of Brighton, Mass., have one apiece. Brandeis entered last weekend ranked 16th in the nation in 3-point shooting (40.3%). Brandeis owns a 5-5 record against other teams in the tournament. They split with UAA foes Washington University and the University of Rochester and lost twice to conference champion University of Chicago. The also posted wins over Curry, Elms College and Amherst College, while losing to UMass-Dartmouth.
Brandeis is one of 12 schools with both men's and women's teams in the tournament. The others are Amherst , Bowdoin, Chicago, Hope, Rochester, Salem (Mass.) State, Scranton, St. Thomas (Minn.), Washington (Mo.) and Wisconsin-Eau Claire, Wisconsin-Steven Point.
Return to the BrandeisNOW homepage