At Brandeis's 57th commencement, Schneider urges graduates to "fix" U.S. politics

In the main address at Brandeis University's 57th commencement today (May 18), CNN political analyst William Schneider urged 826 graduating seniors to become politically involved in uniting the country after decades of divisive, rancorous politics.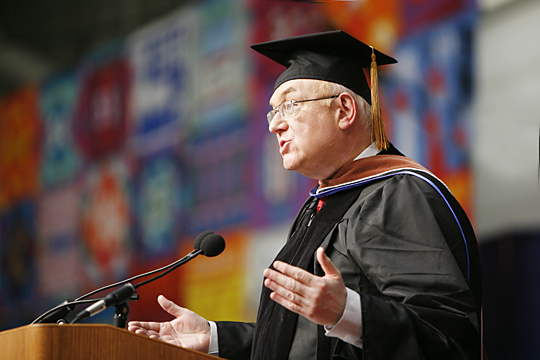 "Politics has become exciting again," said Schneider, a member of the class of 1966 who also received an honorary doctorate in Humane Letters at the commencement. In a wry speech interrupted by cheers and applause on several occasions, Schneider exhorted the class of 2008 to exert its influence on public life.

"Voters are looking for a candidate who can deliver what George W. Bush promised, way back in 1999, when he first announced he was running for president, and it was a promise he failed to deliver. He said, 'I intend to be a uniter, not a divider,'" said Schneider. "And so my generation leaves your generation with this charge, when it comes to the country's politics: we broke it, you fix it."

Schneider, whom the Washington Times has dubbed "the nation's electionmeister," has been named one of the 50 most influential Washington journalists by Washingtonian magazine. He is also a contributing editor to the National Journal and the Atlantic Monthly.

At commencement, Brandeis bestowed 826 bachelors degrees; 614 masters, and 84 doctorates.
Four others received honorary degrees: James Carroll, the novelist and journalist whose writings on politics, religion and culture have challenged and inspired readers in America and elsewhere; Dr. Helene D. Gayle, president of CARE USA, a leading humanitarian organization based in Atlanta; Stephen Kay, a member and past chairman of the Brandeis Board of Trustees, and former senior director at Goldman Sachs in Boston; and Professor Karen K. Uhlenbeck PhD'68, the widely acclaimed mathematician and mentor to young women who holds the Sid W. Richardson Foundation Regents Chair in Mathematics at the University of Texas at Austin.
Harkening back to deep scepticism over Brandeis's founding 60 years ago, President Jehuda Reinharz reminded the graduates to accept challenges and believe in accomplishment against the odds.
"Sometimes you've got to dream, you've got to have vision, even if the people around you don't," he said.
Brandeis International Business School (IBS) honored its 2008 graduates with a commencement ceremony earlier in the day. Chairman and CEO Emeritus of Ionics Arthur L. Goldstein gave the keynote address. This year, IBS conferred degrees to 191 students from over 40 different countries. 
Return to the BrandeisNOW homepage