Hadassah-Brandeis Institute celebrates activism through the arts on a grand scale
"Creating Art, Promoting Change:  Works by Jewish Women – The Exhibit"

See the Brandeis Now video on this exhibit


WALTHAM, Mass. (June 2, 2008) –  "Freed at last – for the most part – from their restrictive image and limited opportunities, Jewish women have embraced the world of art. And many have done so in the service of social justice," says Shula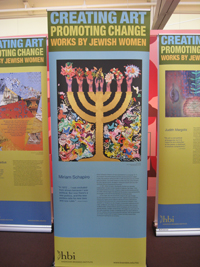 mit Reinharz, founding director of the Hadassah-Brandeis Institute (HBI). And now, the works and life stories of some of these captivating women can be seen in communities across the United States. After being unveiled at Brandeis University, "Creating Art, Promoting Change: Works by Jewish Women - The Exhibit" is now heading to Los Angeles for the national Hadassah Convention in July.

The "Creating Art, Promoting Change" exhibit is inspired by the HBI calendar of the same name. Utilizing six-double sided panels that are each seven feet tall, the show highlights the work of 13 Jewish women from around the world, including groundbreaking artists such as Judy Chicago and Miriam Schapiro, founders of the feminist art movement; Israeli artist Ayana Friedman, whose powerful piece, Aguna (1996) focuses on the controversial issue of women's divorce rights under Jewish law; and Mierle Laderman Ukeles, who launched the environmental art movement in 1977 when she became the first artist-in-residence at the Department of Sanitation in New York City.

Following in the footsteps of prior HBI exhibits "Jewish Women Scientists" and "Jewish + Female = Athlete," this latest show challenges Jewish and gender stereotypes. The two previous exhibits have been placed in over twenty communities, ranging from summer camps to JCC's. Available for a nominal fee, all three of the exhibits are portable and adjustable, so they can fit a variety of spaces and create broad scale opportunities to transform the ways people think about Jews and gender worldwide. Fulfilling the mission of the HBI, each exhibit is both an aesthetic piece and a teaching tool.

"The main idea is to attract attention to what's going on around us and hopefully it will change a little bit, maybe a drop in the ocean," says artist and activist Tamar Hirschl, whose environmental image "Deer Watch" magnificently fills one of the panels that make up the exhibit.

If you are interested in bringing "Creating Art, Promoting Change: Works by Jewish Women – The Exhibit" to your community, please contact Rosalind Landman at rlandman@brandeis.edu / ph: 781.736.8114 or visit the HBI website at www.brandeis.edu/hbi.

High-resolution images are available upon request.

About the Hadassah-Brandeis Institute (HBI)
The Hadassah-Brandeis Institute (HBI) develops fresh ways of thinking about Jews and gender worldwide by producing and promoting scholarly research and artistic projects. The exhibit is based on the HBI calendar "Creating Art, Promoting Change: Works by Jewish Women" which showcased 16 artists from around the globe who embody the spirit of activism. The 16-month planner (September 2007-December 2008) highlighted contemporary issues and the role these activist artists have played in breaking barriers and producing positive social change.

Return to the BrandeisNOW homepage