Alex's story takes flight on TV and in new book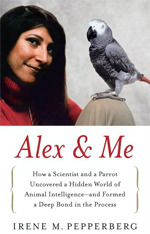 Alex the African gray parrot received a lot of attention during his 30-year research career. Now, his life is being memoralized in print and on the television screen. Irene Pepperberg, the Brandeis scientist who worked with him, chronicles their groundbreaking relationship in the new book "Alex & Me." You can read The Economist's review of the book here.
Pepperberg will discuss the book in a Meet the Author event on Jan. 21 at 4 p.m. in Rapaporte Treasure Hall.
The ABC News program "Nightline" also recently looked back at Alex's amazing accomplishments. You can watch the video here.
Return to the BrandeisNOW homepage