New Catalyst chronicles exciting research across the university
Expanded magazine explores 17th century poetry, 21st century science and more
Did you know that Brandeis scientists are developing and licensing new drugs to treat devastating conditions such as Lou Gehrig's disease? Or that English professor Ramie Targoff's novel research on 17th-century poet John Donne has both scholars and students abuzz with interest in this radical, rakish, and romantic figure? Want to meet a Truman scholar and soccer champ who is kicking AIDS in South Africa?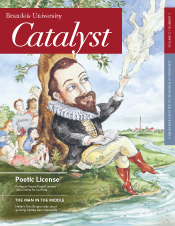 Download the fall 2008
issue of Catalyst.
(3.6M PDF)
Catalyst, the twice-annual magazine devoted to research at Brandeis, chronicles these stories and much more. This issue—the first in our newly expanded format—covers the excitement of research, scholarship, and faculty and student engagement, across many disciplines, here and around the globe.
Whether you are interested in how the middle class is faring in this foundering economy, or how scientists will engineer "biological gadgets" with the support of a new, prestigious grant from the National Science Foundation, or how the first group of science posse students is settling in, chances are that Catalyst will bring you closer to the research enterprise here, and the many people who make it come to life.
Return to the BrandeisNOW homepage