Coexistence International helping to bring peace to Liberia
Three members of the Brandeis community who work on reconciliation and coexistence recently consulted with leading government, civil-society and international officials in Liberia in an effort to strengthen peace, justice and democracy in that formerly violence-plagued West African nation.

Mari Fitzduff, Chair of Coexistence International (CI), Jessica Berns, CI Program Director, and John Moore, Program Manager, were in Liberia at the request of the Liberian Transitional Justice Working Group, a local civil society organization whose mission is to ensure the integrity and transparency of the transitional justice process in the country.

The group also visited Ghana during the trip.

Building on work that CI undertook in Liberia earlier in 2008, the Brandeis group presented a set of general recommendations and guidelines for applying a "coexistence lens" to transitional justice, which is an approach to systematic or massive violations of human rights and can include retributive and restorative measures. Transitional justice can provide redress to victims and also creates opportunities for the transformation of the political systems, conflicts, and other conditions that may have been at the root of the abuses. The process typically includes a combination of criminal prosecutions, truth commissions, reparations programs and security sector reform efforts, among others.

Key among the recommendations is that special consideration be given to inter-group and inter-communal relations. The CI presenters said it is critically important to pay attention to different notions of justice, to identify the needs of different constituencies, and to understand that individuals often are both victims and perpetrators.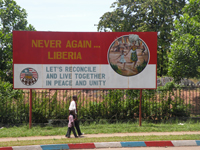 Focusing on such issues increases the possibility of creating fundamental changes in societies such as Liberia, which have been damaged by violence, patterns of inequality and abuse of authority. For a transitional justice process to resonate and have meaning across a broad spectrum of stakeholders in the country, there must be genuine outreach by truth-seeking bodies such as Truth and Reconciliation Commissions and consideration must be given to the languages and mediums by which information is communicated, the Brandeis group said.

Fitzduff and Berns made formal presentations of the recommendations and shared the experiences of other countries in transition, such as Northern Ireland and Peru. Leading members of national and international civil society attended the presentation, as did members of the Liberian Truth and Reconciliation Commission and the Human Rights Commission.

While in Liberia the Brandeis team also participated in meetings with members of the United Nations Mission in Liberia (UNMIL), the Liberian Truth and Reconciliation Commission and notably, the Honorable Olubanke King-Akerele '67, who is currently serving as Minister for Foreign Affairs.

CI's work in Liberia builds upon an initiative launched in 2007 in collaboration with the Ghana Center for Democratic Development that seeks to network practitioners in the fields of transitional justice and in the field of coexistence and peace building in order to share knowledge and to encourage coexistence-sensitive transitional justice processes. The initiative involved fact-finding missions to several countries in the region, two previous workshops and two newsletters on the topic of peace building and justice
 
Coexistence International, based at Brandeis since 2005, creates resources for policymakers, practitioners, advocates, organizations and networks promoting coexistence, or positioned to promote coexistence, at the local, national and international levels. CI seeks to inform coexistence practice and policy and in advocates for complementary approaches to coexistence work. It does this through facilitating connections, reflection, strategic thinking and capacity building between those in the coexistence field and those in related areas.

In Ghana, the Brandeis group participated in a workshop sponsored by Coexistence International and two local civil society organizations that examined questions of participation and inclusion in building strong and sustainable democracies. Participants considered questions such as: "What is the state of coexistence in our countries? What are the challenges to inclusive democracies in West Africa and what is needed to overcome these challenges?"
The workshop was a follow-up to similar work that CI conducted with participants from other regions, as well as a paper published by CI on the topic of democracy building and coexistence. Participants at the Ghana workshop, representing six countries of West Africa, included three recent alumni of Brandeis graduate programs (Coexistence and Conflict Resolution and Sustainable International Development).

For more information contact Jessica Berns at 781-736-5016.


Return to the BrandeisNOW homepage