Creating Democracy: The arts and the 2008 election
Update: After publication of State of the Arts, Senator McCain released a short statement on arts education, and Americans for the Arts Action Fund published a side-by-side comparison of the candidates' arts platforms. This essay appeared in the fall 2008 issue of State of the Arts. Download the entire issue here (5.3M PDF).
---

During this presidential election year, there are so many issues of crucial importance confronting the United States that I'm almost embarrassed to ask: Where do the arts fall on your national priority list?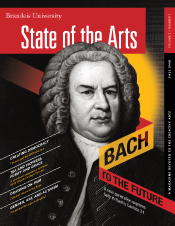 Download the fall 2008
issue of State of the Arts.
(5.3M PDF)
Before you answer, keep in mind the role that the arts historically have played in times of nationwide difficulties and unrest. During the Great Depression, for example, FDR's New Deal sponsored national arts programs that significantly raised spirits and contributed to our economic recovery. In his book Visionaries and Outcasts, historian Michael Brenson recalls that during the cold war, "many people in government who had little or no interest in art knew America and the world were in crisis [and] were ready to believe radical American creativity could help the country find its center."
There is often an assumption that liberal politicians support the arts more than conservatives, but that isn't really true. It was Republican Dwight D. Eisenhower who signed bipartisan legislation in 1958 to create the National Cultural Center that ultimately became the Kennedy Center for the Performing Arts. Lyndon B. Johnson oversaw the creation of the National Endowment for the Arts (NEA), but it was Richard Nixon who authorized the NEA's largest budgetary increase, stating, "We should seek to encourage and develop individual artistic talent and new concepts in arts, just as we do in science and technology."
Of the two current presidential hopefuls, John McCain has not, as of this writing, addressed the arts publicly. Barack Obama has offered an art policy platform featuring two key positions: "reinvesting in arts education" and "promoting cultural diplomacy."
Arts education is, of course, one of those causes that sounds noble until it's time to balance school budgets. It has always puzzled me that creative skills and thinking are somehow perceived as less important than (or unrelated to) those in math and science. The current generation certainly will need creativity to help them discover new solutions to our growing economic, environmental, and energy problems. But more important, the arts educate us about the essence of what it means to be human. The chairman of the NEA, Dana Gioia (a Republican, by the way), recently said, "The purpose of arts education is not to produce more artists, though that is a byproduct. The real purpose of arts education is to create complete human beings capable of leading successful and productive lives in a free society."
Brandeis audiences experience cultural diplomacy through programs like MusicUnitesUS, which encourages understanding of other cultures through the universal to the arts at Brandeis, as a glance through this issue of State of the Arts demonstrates. The arts, with their ability to transcend language barriers and foster empathy, enable us to understand values and emotions beyond polemics and sound bites. And sending American artists abroad is a powerful way to represent our values and ideals to the world. The recent Gershwin concert by the New York Philharmonic in North Korea is a wonderful example.
There was a time when our country was known as a world leader in art and culture. America was defined by the music of Leonard Bernstein, the painting of Jackson Pollock, the dance of Martha Graham, and the plays of Arthur Miller. (I wonder if the average citizen today can name a current composer, painter, choreographer, or playwright.) Is it possible to reclaim that leadership role again? Surely we would like history to record American culture as something greater than American Idol. When I think about ancient Greece, I don't remember who won the Peloponnesian War, but I am grateful for the tragedies of Euripides. It's no coincidence that the society that created the most magnificent art the world has known also created democracy. The two expressions of freedom are inseparable.
It's my belief that Americans want art in their communities and their schools, and that creative expression is the province of neither the left nor the right. American creativity can, once again, help our country find its center. We can establish a new vision of art as citizenship, as activism, and as a democratic process that shapes our national identity.
The U.S. president most closely associated with the arts is John F. Kennedy, whose brief, shining moment is evoked by a song from a musical. Shortly before his death, he said, "If sometimes our great artists have been critical of our society, it is because their sensitivity and their concern for justice, which must motivate any true artist, make them aware that our nation falls short of its highest potential. I see little of more importance to the future of our country and our civilization than full recognition of the place of the artist … I look forward to a great future for America in which our country will match its military strength with our moral restraint, its wealth with our wisdom, and its power with our purpose ... an America that will not be afraid of grace and beauty … that will reward achievement in the arts as we reward achievement in business. I look forward to an America that commands respect throughout the world not only for its strength but for its civilization as well."
That future is now, and the opportunity is too.
Scott Edmiston
Director, Office of the Arts
Return to the BrandeisNOW homepage