Etgar Keret will keep it short on Tuesday, Oct. 28
Israeli author and filmmaker discusses his latest collection of short stories, "The Girl on the Fridge"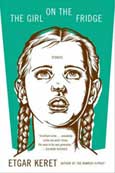 Tuesday, Oct. 28, 2008
4-6 p.m.
International Lounge, Usdan Student Center
Etgar Keret
Israeli Author and Filmmaker
"The Girl on the Fridge: Stories"
Etgar Keret was born in Tel Aviv in 1967. His stories have been featured on "This American Life" and "Selected Shorts." As screenwriters/directors, he and his wife, Shira Geffen, won the 2007 Palme d'Or for Best Debut Feature ("Jellyfish") at the Cannes Film Festival.
Free and open to the public. Bring a friend; buy a book; have it signed.
"…when Keret's stories work, they present an extraordinary vision, a fresh, original and effective portrait of a society and its beleaguered young men. In three-page bursts, he shows us an Israel no longer filled with pioneers and heroes but with ordinary people—a view from the ground, as genuine as it is bleak." – The New York Times
"Keret is a brilliant writer, unlike anyone I've read. He is the voice of the next generation." – Salman Rushdie
"Keret can do more with six . . . paragraphs than most writers can with 600 pages." – People
"By his own metric, Keret (whose last collection was "The Nimrod Flipout") is the raging asthmatic of short-fiction writers, his words chosen and few, his stories issued with the urgency of an inhaler's blast." – Village Voice
"Rarely are stories as economical as Keret's, and rarely are economical stories as affecting as these. Keret, an Israeli writer whose work has been featured on "This American Life" and "Selected Shorts," explores the nature of violence and alienation from a surreal, whimsical perspective in writings that rarely exceeds five pages in length. Even the most impatient reader has time for these quick reads." – San Diego Union-Tribune
You can also hear from Etgar Keret tonight, following a free screening for his movie "Jellyfish" at Wasserman Cinematheque. 
Return to the BrandeisNOW homepage