Contemporary twist on bluegrass, folk ahead for Marquee Series concerts
Oct. 24 concert dedicated to the late American journalist Daniel Pearl
Marquee Series Concert
Northern Lights
Friday, Oct. 24, 8 p.m., Slosberg Recital Hall

Marquee Series Concert
Kristin Andreassen and Friends
Friday, Nov. 7, 8 p.m., Slosberg Recital Hall

WALTHAM, Mass. -- A new generation of bluegrass and folk musicians will light up the Brandeis Marquee Series stage this fall. One of the concerts will be performed in honor of fallen American journalist Daniel Pearl.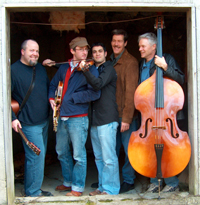 Northern Lights, the Northeast's veteran string band, will begin this year's series on Oct. 24. According to Billboard, "An original risk-taking bluegrass/newgrass act, Northern Lights shines..." Over the past 30 years the band has been exploring new musical territory without losing its acoustic and vocal bearings. From 1990's "Take You to the Sky," to 2005's "New Moon" (Fifty-Fifty Music), the band has fused an eclectic mix of traditional roots music, rock, country, soul and gospel with the high, lonesome vocal sound and instruments of bluegrass.

The five-man band will dedicate the concert to the memory of Daniel Pearl, the Wall Street Journal reporter kidnapped by terrorists in Pakistan and murdered in 2002. Northern Light's Mike Barnett (fiddle, lead/harmony vocals) was the recipient of the Daniel Pearl Memorial Violin in 2007. Each year, the Daniel Pearl Foundation honors Pearl's love for music by distributing the award, which allows exceptional violinists to play memorial violins for one year.  The performance, part of Daniel Pearl World Music Days, falls on the month of what would have been Pearl's 45th birthday.



On Nov. 7 prepare for an evening filled with music, clogging and maybe even "patty cake" with Kristin Andreassen and Friends. Andreassen is an award-winning singer-songwriter who brings sultry vocals, a contemporary edge and surprising dance rhythms to old musical traditions.

The Portland, Ore. native who now lives in Boston is nationally acclaimed for her female group Uncle Earl, and additional groups such as Sometymes Why, The Jolly Bankers and The Footworks Percussive Dance Ensemble. The song "Crayola," which she wrote with Megan Downes, won the 2006 John Lennon Songwriting Contest in the children's category.

In 2007, she released her first solo album called "Kiss Me Hello," which is described as "a snapshot capturing her gift for applying freewheeling folk processes to original songs that are unmistakably contemporary…"

Location and Tickets
Concerts at Brandeis are held in the Slosberg Music Center and Spingold Theater Center located on the Brandeis University campus at 415 South St. in Waltham, Mass. Subscriptions or single tickets for events throughout the concert season are available online or by calling 781-736-3400. Tickets are also available at the daytime box office in the Spingold Theater Center and at the Slosberg box office one hour before events begin.  For more information, visit the Brandeis Concert Season Web site.
Return to the BrandeisNOW homepage