Rare film screening at The Rose Art Museum Thursday, Oct. 30
The Rose presents the work of Stan Brakhage and Harry Smith
Stan Brakhage and Harry Smith Film Screening
Oct. 30, 7-8 p.m.
The Rose Art Museum
$5 suggested donation
R.S.V.P to emello@brandeis.edu, 781-736-3429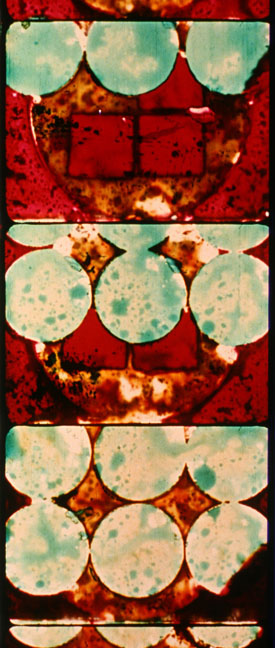 WALTHAM, Mass. - In conjunction with this fall's "Drawing on Film" exhibition, The Rose Art Museum at Brandeis will present rare screening of the abstract 16mm films of two major avant-garde filmmakers, Stan Brakhage and Harry Smith, on Oct. 30.

The short films, all under three minutes, include four hand painted films by Brakhage titled "Glaze of Cathexis" (1990), "Night Music" (1986), "Rage Net" (1988), "Microgarden" (2001) and a 23-minute program including Smith's "Early Abstractions" #1-5, 7, 10 (1939).

The screening will begin with a special introduction to Brakhage's work by Saul Levine, a professor at Massachusetts College of Art and Design and a notable experimental filmmaker who studied under the tutelage of Brakhage during the 1970's.

Born in 1933, Brakhage (d. 1993) was a pioneer in experimental film who favored the use non-narrative images to explore form, color and sight.  Inspired by modern poetry, abstract expressionism, and stain glass windows, his late works were created by painting onto film, resulting in a finished product that resembles a moving painting. During Brakhage's 50-year career he produced about 70 hours worth of work through almost 400 films ranging in length from nine seconds to over four hours. He was the recipient of numerous honors and awards including a 1967 Rockefeller Foundation fellowship, four National Endowment for the Arts grants, a 1978 Guggenheim fellowship and a 1986 Maya Deren Independent Film and Video Artists Award.
Smith (b. 1923) was an ethnomusicologist and experimental filmmaker whose film works incorporate color, sound and music using methods such as stop motion collage techniques.  His images, inspired by the abstract works of artists including those of Kandinsky and Marc, are painted directly on the film and can be viewed as an exploration of conscious and unconscious thought. His inspirations for "Early Abstractions" range from geological history, to Buddhism and the Kabala. His accolades include a Chairman's Merit Award at the Grammy Awards for Contribution to American Folk Music in 1991. Smith died in 1991.
"Drawing on Film," surveys the practice of "direct film" - the process of drawing, scratching, or otherwise manipulating film stock to create images without a camera. The exhibition was organized by the Drawing Center in New York and curated by João Ribas. The series presents works spanning from the late 1930s to the present and highlights an overlooked facet of experimental film. Many of the films are seminal examples within the history of the genre, while more contemporary works are being screened for the first time. By showcasing films from eight decades, the exhibition will present an overview of the rich legacy of direct film.

Drawing on Film was organized by The Drawing Center, New York. The center acknowledges The Liman Foundation/Doug Liman for its generous support of this exhibition.

About the Rose Art Museum at Brandeis

Located on the campus of Brandeis University in Waltham, Mass., The Rose Art Museum was founded in 1961. Over the past 40 years The Rose has earned a considerable reputation for its collections and exhibitions. The collection contains significant holdings in post-War American art including iconic works by Jasper Johns, Robert Rauschenberg, Willem DeKooning, Roy Lichtenstein, Andy Warhol and numerous others.

The Brandeis art collection of approximately 6,000 objects is considered one of the most significant and comprehensive collections of modern and contemporary art in New England. During the past four decades, The Rose has organized landmark exhibitions including Bruce Conner's and Louise Nevelson's first one-person exhibitions (1965 and 1967 respectively), Frank Stella's Protractor Series (1969), the first US museum video art exhibition "Vision and Television" (1970), Helen Frankenthaler's work from the 1950s (1981), Kiki Smith' and Ellen Gallagher's first one-person museum exhibitions (1981 and 1993), and the award-winning "More than Minimal" (1996); Roxy Paine (2002); Barry McGee (2003), and "DreamingNow" (2004).
Image credit:
Harry Smith, Early Abstractions
no. 3: Interwoven, 1947–49. 16mm film,
3:20 min. Film strip detail.
 
Return to the BrandeisNOW homepage