Brandeis to host Boston premiere of "The Greatest Silence" on Thursday
Oct. 30 screening will be followed by Q&A session with Emmy Award-winning filmmaker
WHO: Lisa F. Jackson will screen her 2007 film on rape in the Congo and answer questions from the audience.

WHAT: A documentary designed to shed light on a dark reality will have its Boston premiere at Brandeis University.
 
"The Greatest Silence: Rape in the Congo," a film produced and directed by Emmy Award winner Lisa F. Jackson, features the stories of women who have been kidnapped, raped and tortured by soldiers. A civil war has been raging in the Democratic Republic of Congo since the late 90s, and tens of thousands of women and girls have fallen victim to brutal acts of sexual violence.

Jackson was allowed access to film in the war zones in 2006, and interviewed survivors as well as self-confessed rapists. Jackson herself was gang-raped in 1976 and she shared her story with the women of Congo, who in turn opened up about their experiences. The film won a Special Jury Prize during the 2008 Sundance Film Festival.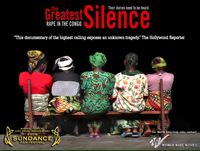 A documentary filmmaker for more than 30 years, Jackson has created many films such as "Meeting with a Killer" (2001), "Life Afterlife" (2000) and "The Secret Life of Barbie" (1998). She has earned two Emmy awards, three Emmy nominations and four CINE Golden Eagles. Jackson studied filmmaking at MIT.

There will be a Q&A session with Jackson following the screening. The event is sponsored by the Film Studies Program and the Edie and Lew Wasserman Fund. For more information contact Dona DeLorenzo at 781-736-2270 or delorenz@brandeis.edu.

Please note: The screening is free and open to the public.

WHEN: Oct. 30, 8 p.m.
WHERE: Wasserman Cinematheque, located in the Sachar International Center, Brandeis University, 415 South Street, Waltham, Mass.

Return to the BrandeisNOW homepage