Renowned geneticist and anthropologist to visit campus today
Spencer Wells will address the migratory history of the human species and the genetic diversity of humanity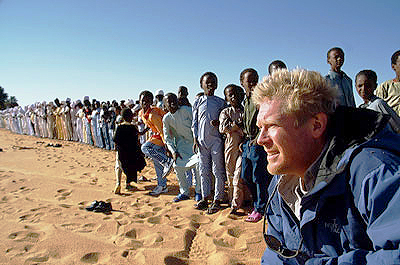 Renowned geneticist and anthropologist Spencer Wells will visit campus on Thursday, Oct. 23 for a public lecture and to discuss the genetic migratory history of members of the campus community who participated in the Brandeis Explores the Journey of Humankind Project.
Wells, the explorer-in-residence at the National Geographic Society and director of the Genographic Project, will give his talk, "Deep Ancestry: Inside the Genographic Project," at 6 p.m. at the Wien Faculty Club. The event is free and open to the public.
The Brandeis-based project is part of the larger Genographic Project, a non-profit, five-year global research partnership of National Geographic and IBM that seeks to chart new knowledge about the migratory history of the human species and answer age-old questions surrounding the genetic diversity of humanity.
The Brandeis Explores the Journey of Humankind Project is the brainchild of Jules Bernstein '57, a friend of Wells who invited him to Brandeis to discuss his work. Bernstein was struck by the way the Genographic Project highlights the existence of a shared human history.
"Although our outward appearances vary and we have different cultural or religious traditions, all of us share common roots," Bernstein said. "Brandeis is a natural place for this type of exploration because of the university's foundational commitment to advancing social justice; its rich history of interdisciplinary work; and the racial, religious, and ethnic diversity of the student body."
The Brandeis Explores the Journey of Humankind Project was launched in the spring, when Wells' award-winning PBS/National Geographic documentary was screened and students in select classes took a sample of their own DNA through a cheek swab for analysis of their migratory history.
The Brandeis project is sponsored by the Louis D. Brandeis Legacy Fund for Social Justice, which was established in 2006 by an anonymous alumnus to provide resources for activities that underscore the University's social-justice mission. Project co-sponsors include the Health: Science, Society, and Policy program, and the departments of sociology, anthropology and biology.


Return to the BrandeisNOW homepage