Unexpected art is happening this week
2009 Leonard Bernstein Festival of the Creative Arts will spark daily surprises around campus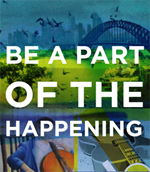 During the 2009 Leonard Bernstein Festival of the Creative Arts (April 22-26), Brandeis invites you to re-imagine what art is…and experience what's happening. Throughout the five-day event, which begins tomorrow afternoon, students, faculty and staff will stage "happenings" all across campus.
 
What is a happening? A happening is a spontaneous performance, creative event, or community art occurrence. Happenings can take place anywhere. They are usually multi-disciplinary, lack a narrative, and involve the audience. Some elements are planned, but happenings ignite when the artists and audience improvise together.
 
The American painter Allan Kaprow coined the term in 1957. His piece "Eighteen Happenings in Six Parts" (1959) is often cited as the first happening; it featured a band playing toy instruments, a woman squeezing an orange, and painters painting. Some art historians consider the first happening to be composer John Cage's 1952 performance, "Theater Piece No. 1," in which Cage read on a ladder while Robert Rauschenberg showed his paintings and Merce Cunningham danced. The form was taken up by artists across the world, and happenings flourished in the 1960s. In the 21st century, they have been reinvented as "flash mobs" and viewed on viral videos.
 
Art is Happening on Wednesday
April 22, 5:10 -5:30 p.m.
Shapiro Campus Center Atrium
The 2009 Festival begins with an unpredictable, improvisational celebration-performance art-interactive event led by students from the Brandeis School of Creative Arts. You won't believe what creativity can make happen.
 
Art is Happening on Thursday
April 23, 9 – 9:10 a.m.
Rabb Steps
Got a minute? Catch this live, participatory performance-happening that may change your perspective on time.
 
Art is Happening on Friday
April 24, 1 -1:30 p.m.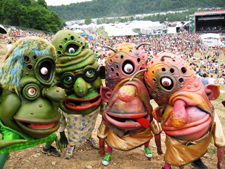 Shapiro Campus Center Atrium
Transform an ordinary day into something rare. Brandeis faculty and staff from departments all over campus lead a participatory- improvisational-performance event. Featuring special appearances by LTS, Residence Life, Mochila, and Beyonce of Brandeis. Is this art? What is happening?
 
Art is Happening on Sunday
April 26, 1:00-5:00 p.m.
Shapiro Great Lawn
Who put that song in your head? That magic trick in your pocket? That tickle in your feet? That art on your sidewalk? Can President Obama's stimulus package be transformed into a work of art? Encounter spontaneous and surprising art and artists throughout the afternoon, led by the international performers Big Nazo.


Return to the BrandeisNOW homepage