BEWARE: Brandeis is about to be invaded!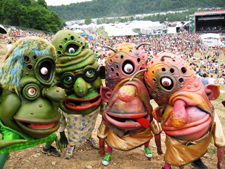 During this year's Leonard Bernstein Festival of the Creative Arts, Brandeis will be invaded by creatures from Big Nazo, the international performance group of visual artists and puppet performers who create bizarre and hilarious larger-than-life sized characters, environments, and spectacles. Their innovative mask and puppetry combine stand-up comedy, science fiction, daredevil stunts, soap opera hysterics, and professional wrestling with audience-interactive improvisations.
 
Big Nazo (pronounced NAH-zo, from the Italian word for nose) is the brainchild of founder and director Erminio Pinque, who lives in Providence, Rhode Island, and teaches at the Rhode Island School of Design. Formed in the late 1980s, Big Nazo's characters include renegade circus family contortionists, a giant three-eyed robot percussionist, break-dancing police officers, blob-like go-go dancers, and a charismatic lab rat and his man-eating chia pet.

Big Nazo has brought their special brand of performance art to parades, concerts, and festivals around the world including France, Italy, Britain, , Japan, Indonesia, and Portugal. Pinque recalls: "Traveling overseas to see art and make art along the way set me in motion. The anonymity of being a stranger with a strange form of expression made it bearable to put myself out on a limb. Puppetry can bridge all art forms and every kind of theatrical expression."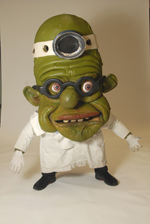 On Sunday, April 26 from 1-4 p.m., a dozen creatures from Big Nazo will roam Lower Campus performing and interacting with the Brandeis community and local families as the featured artists in this year's "art happenings." Prepare to be shocked, delighted, surprised, and provoked.
 
"We're in an art form that requires a suspension of disbelief," according to Pinque. "One of the Nazo's unwritten laws is that we never reveal our identities: we never disrobe in public, take our head off at the end of the show, or take a curtain call as actors. What we're doing is actually kind of subversive. Big Nazo celebrates what might make you uncomfortable."
 
Click here for the complete Leonard Bernstein Festival of the Creative Arts schedule.
Return to the BrandeisNOW homepage