Alumni Community Service Day to be held May 3
Brandeis Volunteers project will involve alumni from across the country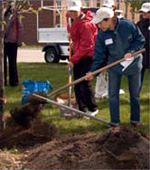 WALTHAM, Mass. -- The Brandeis University Alumni Association has designated Sunday, May 3 an alumni community service day. The Brandeis Volunteers project will bring presidents and volunteers from alumni clubs across the country and internationally together to organize community service projects in their area in celebration of the legacy of the university's namesake, Louis Brandeis.
A recent alumni survey confirmed that Brandeis graduates carry the university's founding principles of social justice and community service with them throughout their lives. The survey revealed that Brandeis graduates are twice as likely as alumni from peer institutions to volunteer and support their alma mater, and that they support as many as five non-profit, community organizations at any given time.

"Our alumni are very committed to social justice and are always looking for ways to connect with each other, particularly around a common purpose," said Karen Ann Engelbourg '79, assistant vice president of Alumni and University Relations. Some of our clubs already participate in local community service projects."

"It is precisely in uncertain times like these that we need to strengthen ties to our local community and support our most disadvantaged members," said Mark Surchin '78, vice president of the Alumni Association Board of Directors and president of the Alumni Club of Toronto. "What better way to affirm our values as a Brandeis community than by having a coordinated national and international effort to give back."

Activities will be chosen by alumni volunteers in various regions, and may coincide with community service projects already underway. They will range from stocking canned goods at a food bank to cleaning up a public park to volunteering at a homeless shelter. Alumni who do not live in an official club area are encouraged to participate as well. While May 3 is the official date, groups and individuals may schedule service projects around that date if more convenient.

Visit http://alumni.brandeis.edu/volunteer to review a list of all service projects, get ideas, or register to participate.
Visit the Facebook event page for Brandeis Volunteers.
Return to the BrandeisNOW homepage