Culture X 2009: Rise Up
Students call on the Brandeis community to rise up and create a newfound hope during these challenging times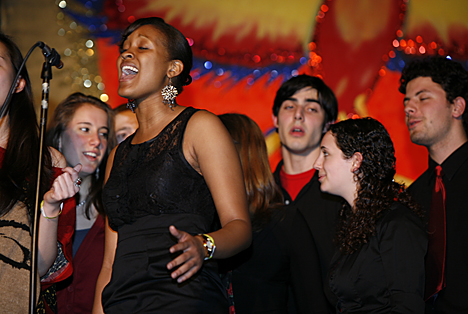 WALTHAM, Mass. -- Culture X, the Intercultural Center's annual variety show, celebrated and embraced the diverse identities that make up the world on April 4. Organizers hoped the night would remind the standing-room-only crowd of the many things the human race has achieved, and encourage communities to come together through talents and passions and rise up in an effort to create a newfound hope.
This year, Culture X partnered with Live Campus, an intercollegiate initiative based at Brandeis that is working to reduce and ultimately end extreme poverty. Proceeds raised at Culture X will benefit one of the 11 organizations Live Campus supports. For more information, visit the Live Campus Web site. Search for Culture X 2009: Rise Up.
Photos by Mike Lovett.
Return to the BrandeisNOW homepage