Brandeis ranked 31 among 260 best schools in 2010 U.S. News rankings
University is also placed amid top 'best value' institutions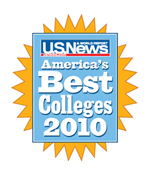 In its 2010 edition of "America's Best Colleges," U.S. News & World Report ranked Brandeis 31st among 260 top schools nationally, and named it one of the best values in the country. The rankings were released Aug. 20.

"While these rankings cannot reflect the full breadth and richness of the Brandeis experience," said President Jehuda Reinharz, "I accept them as a sign of the outstanding work and dedication that drive our educational mission here."

The magazine ranked Brandeis 31 among "best value" schools nationally, noting that 46 percent of students receive need-based grants. The average discount from total cost is 47 percent.

Schools placed in the national universities category, ranging from Harvard and Yale to UCLA and Brandeis, offer a full range of undergraduate majors, master's and doctoral degrees. The top-ranked schools, including Brandeis, are also classified for their commitment to producing groundbreaking research.

The latest U.S. News ranking maintained Brandeis's position within a hairsbreadth of the top 30. Brandeis's overall score of 67 put it just three points behind the 28th-ranked Wake Forest University.

Brandeis was the fourth-highest ranked university in Massachusetts, behind Harvard (tied for No. 1), Massachusetts Institute of Technology (tied for fourth) and Tufts (tied for 28th).

The U.S. News guide, considered the most influential of its kind among prospective students and their parents, scores colleges and universities on a 100-point scale based on their performance in seven broad categories: peer assessment, a subjective measure of a school's reputation by other university presidents, provosts and admissions deans (25 percent of total score); student selectivity (15 percent); faculty resources (20 percent); graduation and retention rates (20 percent); expenditures per student (10 percent); alumni giving rate (5 percent); and graduation rate performance (5 percent).
Return to the BrandeisNOW homepage