Global collaborations highlight the 2009-10 Brandeis concert season
Audiences will have the chance to travel the world, join the jam session, and celebrate the classics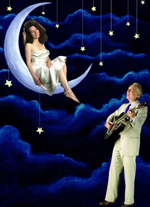 WALTHAM, Mass.— For the first time, you're invited to take a break with the 2009-10 Brandeis concert season. On each Friday that school is in session (beginning in September), members of the campus community, as well as the public, can sit in on a master class taught by leading professional musicians, listen to a recital by some of the university's most promising young talent, or catch a concert by a visiting performer or group.
"Friday Music Breaks@3" present audiences with a taste of what the Brandeis concert season offers- and its all for free. The breaks kick off on Sept. 4 with a graduate student colloquium. Other highlights include an Oct. 9 master class, taught by renowned visiting musicians Paul Rishell and Annie Raines, focusing on the history of recorded Blues, and on Oct. 23, world music group Obbini Tumbao invites audience members to bring their own instruments and join the band for an informal jam. Friday Breaks@3 start at 3 p.m. and will be held in various locations in the Slosberg Music Center. Visit http://www.brandeis.edu/arts/concerts/Friday/FridayMusicBreaks.html for more information or to reserve a seat.
Leading the 2009-10 Brandeis Concert Season is the internationally acclaimed Lydian String Quartet. Comprised of four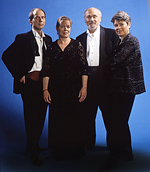 Brandeis music professors— Daniel Stepner and Judith Eissenberg, violin; Mary Ruth (UV) Ray, viola; and Joshua Gordon, cello— the quartet will continue its globally inspired series "Around the World in a String Quartet," starting with an Oct. 3 concert featuring music from Germany, Russia and Austria. You can also enjoy a world premiere from acclaimed Boston composer Scott Wheeler on Feb. 28, when the Lydian's Joshua Gordon partners with pianist Randall Hodgkinson for "Cellotica, Vol.2: Eclectic Mix." In addition, Gordon and Hodgkinson will play both familiar and exotic pieces by Koechlin, Faure and Chopin. You can also catch the Lydian's Daniel Stepner on Oct. 17 in "Together Again," an evening of unaccompanied Bach, following by standup comedy.
The Marquee Series, which showcases professional guest artists of diverse musical styles and traditions, is back as well, beginning with W.C. Handy Award-winners (and Music Break master class teachers) Paul Rishell and Annie Raines. The duo will offer rousing interpretations of acoustic blues in a concert on Oct. 9. Bob Nieske's Big Wolf Band will deliver its own big sound in a Marquee Series concert on Nov. 20. The 10-member group, led by Brandeis professor Nieske, merges diverse musical flavors and tastes into large-scale jazz compositions.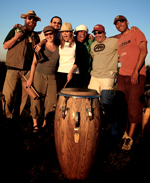 This season's world music offerings span South America to Korea.  If you can't make Obbini Tumbao's free campus jam session in the Shapiro Campus Center, or just want to hear more of their infectious groove, the band will perform in the fall World Music Concert on Oct. 24 in Slosberg Music Center. The group's powerful horn section, made up of trumpets and trombones, is supported by an ebullient rhythm section of congas, timbales, bongos and piano. The result is a compelling new sound that is reminiscent of the Buena Vista Social Club. Obbini Tumbao is being welcomed to campus by the MusicUnitesUS residency program, which invites musicians from around the world to Brandeis to further the understanding and appreciation of diverse cultures through music. As part of their Oct. 22-24 residency, Obbini Tumbao will also perform for students from the Waltham Public School district.
In March, MusicUnitesUS will present Alim and Fargana Qasimov, who will perform the spiritual music of Azerbaijan. Alim has been hailed as Azerbaijan's greatest singer and is a globally renowned master of Azerbaijan's mugham genre. He has performed around the globe, including South America, Iran and Europe. His partnership with his daughter, Fargana, exemplifies the explosive artistic energy that results when cultural traditions encounter a new generation of talent.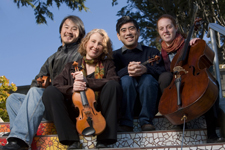 Brandeis will host a historic collaborative concert initiative in April. The Pacific Rim Festival, running from April 26 to 27, will feature the Contemporary Music Ensemble of Korea performing in separate concerts with the Lydian String Quartet and the Del Sol Quartet. The April 26 performance with the Lydians will feature new pieces written specifically for the occasion by Brandeis faculty. The compositions incorporate both Western and traditional Korean instruments. Participating composers include 12 distinguished composers from different cultural backgrounds, representing the musical languages of Cambodia, Japan, China, Taiwan (Brandeis music professor Yu-Hui Chang), the Philippines, Korea, Bosnia and the U.S. (Brandeis music professor David Rakowski). The festival continues on April 27 with the Del Sol Quartet. Their riveting concert performances led one reviewer to describe the ensemble as a "San Francisco foursome steeped in imagination and bravery."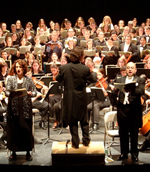 More than a dozen concerts by Brandeis student music ensembles will be offered during the upcoming year. The Brandeis Wind Ensemble, directed by Thomas Souza, will cross musical borders with a Nov. 15 concert featuring music from Mexico, Puerto Rico and Brazil; while the Brandeis-Wellesley Orchestra, conducted by Neal Hampton, will celebrate the great classical tradition with works by Beethoven, Mendelssohn, and Tchaikovsky. The orchestra will also perform at the annual Brandeis community event, the Messiah Sing, on Dec. 3.
For more information on student ensemble performances, or any of the 2009-10 Brandeis concert season events, visit the concert season Web site. Tickets are available online at Brandeis Tickets.
Return to the BrandeisNOW homepage