'Greater Boston' discusses the WSRC exhibit 'Intended Consequences'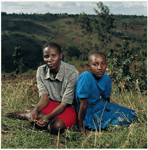 The WGBH-TV program "Greater Boston with Emily Rooney" recently talked with photographer Jonathan Torgovnik about his photo series "Intended Consequences," which is currently on display at the Women's Studies Research Center through April 9. The exhibit focuses on some of the thousands of Tutsi women who were raped by Hutu militia during the 1994 Rwandan genocide, and became pregnant as a result. Torgovnik's portraits of these women and their children serve as a reminder of both what happened and the lingering consequences these families continue to struggle with today. For more information about the exhibit, read the press release.
Watch the "Greater Boston" segment. 
Return to the BrandeisNOW homepage