Murray Greenberg '77 gives the inside story behind 'Passing Game'
Murray Greenberg '77, recently returned to Brandeis to discuss his new book "Passing Game: Benny Friedman and the Transformation of Football," in the latest Meet the Author event sponsored by the Office of Communications.

Friedman, who was an All-American quarterback at Michigan before revolutionizing the pro passing game, also served as Brandeis' only football coach, leading the Judges from 1951 until the program was disbanded after the 1959 season.

BrandeisNOW talked with Greenberg about his Friedman biography shortly before the Meet the Author event.

BrandeisNOW: How would you describe your book?

Murray Greenberg: "Passing Game" is really a rediscovery of a great American innovator. It has a special connection to Brandeis, obviously, because Benny Friedman was the first athletic director and the only football coach as it turns out. He's just a great iconic sporting figure who has been lost over time and I really feel fortunate to have had the opportunity to bring him back to life a little bit with this book.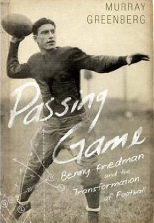 BN: Benny Friedman is a member of the Pro Football Hall of Fame. Given that he was one of the greatest football players ever, why has he been forgotten?

MG: That's a very difficult question to answer. It may not have a specific answer. I think that sometimes great figures in their fields, even if they've attained great celebrity, sometime become lost over time for no particular reason. Some people speculate that anti-Semitism may have had something to do with it. as well as the passage of time. It's great to bring him back. I like to say he was the Babe Ruth of football. What Babe Ruth did for baseball with the home run, Benny Friedman did for football with the forward pass. And, you know, unfortunately, not enough people know it. Hopefully the book may help more people discover how important a figure he was in that way.

BN: How did you conduct your research for this book?

MG: In a lot of different ways. I visited a lot of different places - a lot of different archives and libraries. I looked at clips, programs, magazines, books, and interviews – the whole gamut that goes into trying to rediscover a person's life. It was really a great enjoyment because I've always loved sports and I've always loved history. This was a great way to combine the two.

BN: As a Brandeis alumnus, how special it was for you to delve into the history of this famous Brandeis figure?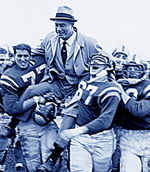 MG: When I was here and I played sports here, I really knew next to nothing about him. It wasn't until much, much later that I learned about him at the 1998 tribute that was given by his former players. That is what really triggered the idea for a book and then several years after that I had the opportunity to write it. So it really is very special. Having been involved in athletics here and to feel a connection, even a remote one to him, is really very nice.

BN: How special is it for you to be talking about your book at your alma mater?

MG: Oh, it's great. I'm very honored and very proud to be here. There are some very distinguished alumni who've written some fantastic books and just to be included in that kind of a series is really wonderful.

Don't miss the April 22 Meet the Author event featuring Jane Kamensky and Jill Lepore's historical novel "Blindspot." The program begins at 4 p.m. in Rapaporte Treasure Hall.
Return to the BrandeisNOW homepage