Dramatic portrait series intends to help survivors of Rwandan genocide
'Intended Consequences' will be exhibited at WSRC's Kniznick Gallery beginning Feb. 23
"Intended Consequences: Rwandan Children Born of Rape"
Photographs by Jonathan Torgovnik
Feb. 23 – April 9, 2009
Kniznick Gallery
Women's Studies Research Center
Brandeis University

WALTHAM, Mass– From Feb. 23 to April 9, the Women's Studies Research Center at Brandeis will host the Jonathan Torgovnik portrait series "Intended Consequences." The photographs provide an intimate look at some of the youngest victims of the 1994 Rwandan genocide: children conceived from rape. With these stunning images, Torgovnik hopes to create an international response to aid these children and their mothers.

During the 1994 genocide, Hutu militia groups in Rwanda systematically raped thousands of Tutsi women; an estimated 20,000 children were born as a result. Many of the mothers also contracted HIV/AIDS during the same brutal encounters that left them pregnant. Torgovnik met one of these women, Margaret Mukacyaka, in 2006 when he traveled to East Africa to report for Newsweek on the twenty-fifth anniversary of the HIV/AIDS outbreak in the region. Inspired from that first encounter, he later returned to interview and photograph other mothers and their children.

Often rejected by their surviving family members and their community for "having a child of the militia," the women Torgovnik photographed have little opportunity to send their children to school, provide for basic needs, or receive much needed medical attention. In order to help them, Torgovnik has used his work to create Foundation Rwanda, a non-profit initiative to send these children to secondary school, to link their mothers to existing support services, and to create awareness about the struggles these families face as a direct result of the genocide.

Torgovnik will talk about the issue and his work, at the exhibit's opening reception on Feb. 23. "Intended Consequences" will include 25 photographs, accompanied by quotes from some of the women who Torgovnik interviewed. Additionally, a touch screen monitor will showcase multimedia pieces, and an education curriculum guide developed by Amnesty International's Human Rights Education department will also be available. A corresponding book and DVD, which includes interviews with some of the women from "Intended Consequences," will be available for sale.

Aperture, a not-for-profit organization devoted to photography and the visual arts, organized the traveling exhibition and produced the accompanying publication.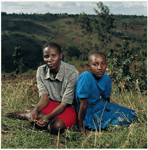 This exhibition was made possible by generous support from The Open Society Institute, Amnesty International, and Foundation Rwanda.  Additional support for "Intended Consequences" was provided by Henry Buhl, SanDisk, Kodak, and the Consulate General of Israel, Office of Cultural Affairs, in New York.

About Jonathan Torgovnik
Jonathan Torgovnik was born in Israel in 1969 and graduated with a BFA degree from the School of Visual Arts in New York. His photographs have been published in numerous international publications including Newsweek, Aperture, GEO, The Sunday Times Magazine, Stern, and Paris Match. His work has been included in numerous exhibitions in the U.S. and Europe, and is in the permanent collections of museums including The Museum of Fine Arts, Houston, and the Bibliotheque national de France in Paris. Torgovnik was awarded the 2007 National Portrait Gallery's Portrait Prize, the Open Society's Documentary Photography Project Fellowship and the Getty Images Grant for Editorial Photography. He has been a contract photographer for Newsweek Magazine since 2005, and is also on the faculty of the International Center of Photography School in New York.

"Intended Consequences" opening reception
Monday, Feb. 23, 5 – 7 p.m.
WSRC, Liberman Miller Lecture Hall and Kniznick Gallery
Artist Jonathan Torgovnik will give a lecture and lead a discussion about his work and subjects, followed by a reception. The event is sponsored, in part, by the International Center for Ethics, Justice and Public Life. For more details about all events related to the exhibit, visit go.brandeis.edu/wsrc.

"Rape as Military Strategy" panel discussion
Monday, March 16, 2:30 p.m.
WSRC, Liberman Miller Lecture Hall
Panelists will include Cynthia Enloe, Department of International Development, Community and Environment, and Women's Studies at Clark University.

Reading of the testimonies
Tuesday, April 7, 4:45 p.m.
WSRC, Liberman Miller Lecture Hall and Kniznick Gallery
To mark the fifteenth anniversary of the Rwandan genocide, Brandeis students will read victims' testimonies. Organized by Margot Moinester '09 and Noam Shuster '11. Part of an international effort orchestrated by Foundation Rwanda.

For more details about all events related to the exhibit, visit go.brandeis.edu/wsrc.

Kniznick Gallery Location and Hours
Monday - Friday, 9 a.m.-5 p.m.
And by appointment
781-736-8102, wsrc-arts@brandeis.edu
Women's Studies Research Center, Brandeis University
515 South St., Waltham, MA (across from Brandeis/Roberts commuter rail stop)

About the Women's Studies Research Center
The Women's Studies Research Center (WSRC) identifies itself as a place where research, art, and activism converge. Bringing together scholars, students, and artists, the WSRC is a community that thrives on the sharing of knowledge and ideas. The WSRC is home to the Kniznick Gallery, the only exhibition space in New England devoted to the display of women's art and/or art about gender. The WSRC is located at 515 South St. in Waltham, Mass. For more information, call 781-736-8100 or visit go.brandeis.edu/wsrc.


Return to the BrandeisNOW homepage