President Obama recognizes WSRC's Evelyn Murphy for her fight to close the wage gap
He invites her to attend the signing of the Lilly Ledbetter Fair Pay Act
Evelyn Murphy is a Resident Scholar at the Women's Studies Research Center and the former Lt. Governor of Massachusetts. She founded the non-profit organization WAGE (women are getting even) to end discrimination against women in the American workplace. Because of her dedication to the issue, President Barack Obama invited Murphy to the White House last week to attend the signing of the Lilly Ledbetter Fair Pay Act.

BrandeisNOW: What is the Lilly Ledbetter Fair Pay Act?

Evelyn Murphy: Lilly Ledbetter worked in the Gadsden, Ala. Goodyear Tire plant for over 20 years. She started as a plant supervisor along with a male friend of hers. When she was about to retire someone informed her that she had been paid unfairly all those years, although she wasn't aware of it. She sued on unfair pay and was awarded by the federal jury in Alabama a multi-million dollar award. After that, the judge in that district limited the award to three hundred thousand dollars, which is the legal limit on damages. That was appealed to the Supreme Court and the Supreme Court struck it down completely, saying that the statute of limitations on the discrimination had run out. The vote by the Supreme Court was a five-four decision. At that time, Justice Ruth Bader Ginsburg wrote a stinging dissent, and actually read her dissent from the bench, which is very unusual for any Supreme Court Justice to do. Essentially, she said, the only way to right this horrific wrong was for Congress to change the law and clarify the statute of limitations. And so that's what the Lilly Ledbetter Fair Pay Act just did. It says that every unfair paycheck is another act of discrimination and the statute of limitations starts from the time of that last paycheck. So it really now clarifies what has been unclear before, and gives people who didn't know they were being discriminated a fair chance to recover some losses. Lily Ledbetter will never recover a penny, but it was stirring to see her standing next to the president as he signed a bill in her honor; really, though, its not just for women, but for people of color, for older workers, for workers of different national origin. It clarifies the statue of limitations for all discriminatory acts.

BrandeisNOW: President Obama invited you to attend the bill signing-

EM: Yes, I got a call last week, inviting me to the White House on Thursday morning for the signing of this bill. This was the first bill that President Obama signed into law. As he was sitting there, he looked up and said to all of us that he was still getting used to signing a bill using many pens, so that the key people who helped the legislation get to the House and the Senate would all get a pen that had signed the bill. This bill signing was a symbolic, important statement by the new president about eliminating some of the discrimination that exists in American workplaces today.

BrandeisNOW: Why is this issue so important to you?

EM: While I have been a Resident Scholar in the Women's Research Study Center at Brandeis, I researched and wrote a book along with a colleague, E.J. Graff, called "Getting Even: Why Women Don't Get Paid Like Men- And What to do About It." I should mention that undergraduate Tammy Pels also helped out with the research as part of the WSRC's Student-Scholar Partnership program. Essentially that book says that the 23 cents of difference, the gender wage gap, is about discrimination- it's about unfair, unequal treatment. Some of it's overt and some of it is just unreflected biases and stereotypes which occur today. But it costs women a huge amount of money. A typical woman who graduated from college last spring will make a million dollars less than a young man with the same college degree, graduating at the same time. So it's a lot of money over your working career. Based on that book, I founded a national grassroots activist organization called the WAGE Project, WAGE being short for "women are getting even." WAGE is dedicated to getting women in every workplace - public and private, non-profit throughout the country- paid and treated fairly in the workplace. So I am out every day out in America giving salary negotiation workshops. Also, I have testified on the Paycheck Fairness Act, another important piece of legislation to dampen discrimination in the workplace, before both the Senate and the House.  The President even acknowledged after the signing, that there's more to be done to eliminate the discrimination that exists in the workplace today and the Paycheck Fairness Act should be the next reform.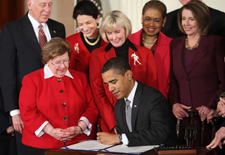 BrandeisNOW: Given all of the work that you've done on this issue, how special was it for you to be there as President Obama signed this bill?

EM: It was special because it was not only his first bill, but also, because there has not been legislation passed through Congress dealing with this kind of discrimination in the workplace for over 25 years. In that sense, this renewed the hopes of a lot of us who have been fighting for this issue for a long time. The other part of this, which was so moving to me, was I have spent a fair amount of time talking with Lilly Ledbetter. She is a decent, humble, unpretentious woman. So to see her recognized, even though she will regain not a penny, was a wonderful sign by the President of this woman's contribution. What you saw was a special gathering of people in the White House for this bill signing- men, women, black and white- and it rekindled our hope that we can improve the workplaces of the country and end this discrimination which is so costly to families.
Return to the BrandeisNOW homepage