Students organize intercollegiate initiative to end extreme poverty by 2015
Live Campus 2009, based at Brandeis, launches ambitious mission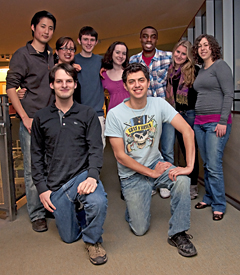 WALTHAM, Mass. -- In an effort to raise money to both combat and educate college students about extreme poverty, Live Campus 2009, an intercollegiate initiative based at Brandeis University, will host a series of benefit concerts across college campuses nationwide the weekend of April 3-5, 2009.
Live Campus, a part of the Boston-based Millennium Campus Network -- a group of university student initiatives aimed towards ending extreme poverty -- combines fundraising with education in seeking to diversify the movement to reduce and ultimately end extreme poverty. From the belief that colleges are conducive to concerts, Live Campus encourages colleges to host benefit concerts and donate the proceeds to one of 11 charities chosen by Live Campus.
Each charity supports one of the eight United Nations Millennium Development Goals. These goals range from reduction of hunger and disease to maternal health and gender equality in the hopes of ending extreme poverty by 2015.
"Certainly this initiative seems intimidating," said Justin Kang, director of Live Campus.  "It shouldn't however as such challenges should inspire and push our generation to seek and to do better. Students have the ability and the power to organize such large-scale and important programs. It just takes patience, confidence and vision."
In addition to the fundraising aspect of the initiative, Kang said Live Campus hopes to mobilize a united intercollegiate movement and show all students that they have a stake in issues such as extreme poverty and can make a tangible impact by using their own talents.
Watch a video about Live Campus.
Photo by Max Shay.
Front left to right: Yale Spector and Dan Gillman
Back left to right: Justin Kang, Lilia Pineda, David Drayton, Chrissy Callahan, Daniel Acheampong, Robyn Blumberg and Allyson Goldsmith
Return to the BrandeisNOW homepage