The Boston Globe reviews the Lydian String Quartet's 'Around the World'
The following is an excerpt of "A whirlwind 'tour' begins at home" by Matthew Guerrieri, Boston Globe correspondent:
WALTHAM - Having surveyed the genre for more than a quarter-century of performing, the Lydian String Quartet is in the midst of a survey called "Around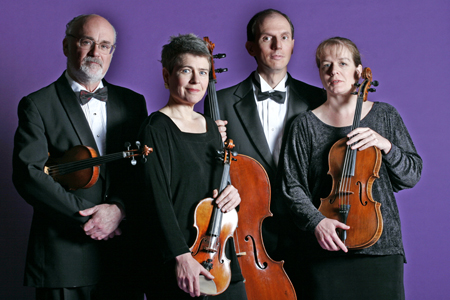 the World in a String Quartet," like a lantern-slide lecture by a 19th-century explorer. Such musical souvenirs, though, often become more idiosyncratic than representative, the composer's personality trumping local color. So it was with Saturday's program at Brandeis - which embarked on a journey without even leaving home.
Yehudi Wyner's "Brandeis Sunday" was composed, in fact, for university president Jehuda Reinharz's 1995 inauguration. Eschewing triumphalism for more reticent introspection, a gently pulsing chorale leads to jazzy, syncopated harmonic tangles. By marching to its own drummer, this occasional piece deservedly lives beyond the occasion. Cellist Joshua Gordon's focused depth set the tone, but the group as a whole came in and out of timbral focus: stepping in for Judith Eissenberg (recovering from surgery), guest violinist Danielle Maddon played with a substantial, mid-range sound that often matched up better with Mary Ruth Ray's similar viola than Daniel Stepner's more fine-spun violin. 
The concert's French ambassador was contemporary master Henri Dutilleux's only string quartet (as yet), "Ainsi la nuit" ("Thus the night"), finished in 1976. As the title indicates, the nocturnal mood grows out of the material instead of determining it. A rich but syntactically ambiguous harmony sires glittering tremolos and mercurial ornamentation. Themes reflect forward and back, a symmetry of experience and memory...
Return to the BrandeisNOW homepage