Celebrating 'The Black Mozart' through classical roots and hip hop
The Brandeis Marquee Series to present Futureman and the Black Mozart Ensemble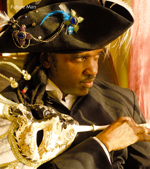 Marquee Series Concert
Saturday, Feb. 7, 8 p.m.
Futureman and the Black Mozart Ensemble

WHO: Grammy nominee Roy "Futureman" Wooten and the Black Mozart Ensemble will perform at Brandeis.

WHAT: The musician who invented the "Drumitar," a guitar-shaped drum that replicates the sounds of an entire drum kit with the use of a few fingers, is bringing his innovative music and style to Brandeis University this winter.

Roy "Futureman" Wooten, a two-time Grammy Award winning performer with Bela Fleck and the Flecktones, will perform on Feb. 7 in Slosberg Recital Hall with his Black Mozart Ensemble of young virtuoso violinists and cellists. They're celebrating the life and music of Joseph Boulogne, also known as Le Chevalier de Saint-Georges. Dubbed the "Black Mozart," Saint-Georges was one of the most important figures in 18th century France and one of the earliest classical European musicians with African ancestry.

According to Futureman, the "The Black Mozart" composition "is a personal statement of new American classical roots and dance music with social aspirations that embraces all races of humanity." Audience members will discover a lost chapter of music history in this dazzling performance featuring actors, classical roots and hip-hop.

The concert is part of the university's "Marquee Series," which presents a collection of concerts each year celebrating wide-ranging musical styles and themes. There will be a master class called "Music, Masonry and the Black Mozart" with Futureman on Saturday, Feb. 7 at 11am in Slosberg Music Center. All are invited and reservations are recommended by emailing marqueeconcerts@brandeis.edu.

WHEN: Saturday, Feb. 7, 8 p.m.

LOCATION AND TICKETS: Concerts at Brandeis are held in the Slosberg Music Center and Spingold Theater Center located on the Brandeis University campus at 415 South St. in Waltham, Mass. Subscriptions or single tickets for events throughout the concert season are available online at http://go.brandeis.edu/brandeistickets or by calling 781-736-3400. Tickets are also available at the daytime box office in the Spingold Theater Center and at the Slosberg box office one hour before events begin.  For more information visit http://www.brandeis.edu/arts/concerts/tickets.html.
Return to the BrandeisNOW homepage