Arts events not to miss this semester
Office of the Arts director Scott Edmiston provides his top 12 list
Each academic year, Brandeis University hosts more than 350 arts events culminating in the annual Leonard Bernstein Festival of the Creative Arts. We certainly are a creative campus. I know that it is sometimes difficult to keep track of all the plays, concerts and exhibitions. So with all due respect to the 200 other wonderful arts events this semester, here is a selection of 12 that you won't want to miss. Mark your calendars now!
1. Just Arts: The First Faculty and Staff Art Show
Jan. 22-31
Opening Reception: Jan. 22, 12 p.m.
Dreitzer Gallery
Did you know that Sheryl Sousa, director of athletics, has been painting since she was a child? Or that politics professor Marty Levin studied at the Museum School? Enjoy artwork by more than 30 artists who work in library and technology services, the chaplaincy, the mailroom, and capital projects; and in the departments of biology, music, theater arts, politics, economics, and biochemistry. Free and open to the public.
2. Lydian String Quartet at the Rose
Jan. 28 and March 11, 12 p.m.
Rose Art Museum
Aren't we lucky to be at a university that offers us free lunchtime concerts by an internationally-acclaimed string quartet -- just to enhance our quality of life? Free and open to the public.
3. Siddhartha: A Jungian Fantasy in Three Movements (with Prelude)
Adapted by Eric Hill from the novel "Siddhartha" and other writings by Hermann Hesse
Feb. 5-15
Spingold Theater Center
As part of Brandeis' year of inquiry into India, the Brandeis Theater Company presents a fantastical, original stage adaptation of the classic novel about Siddhartha's quest for enlightenment. The cast of characters includes Jung, Freud, three Hindu Goddesses, and Hermann Hesse himself. Brandeis Tickets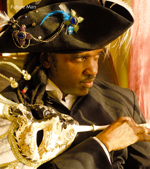 4.  Futureman and the Black Mozart Ensemble
Saturday, Feb. 7, 8 p.m.
Slosberg Music Center
2009 Grammy nominee Roy "Futureman" Wooten is well-known from his work with Bela Fleck and the Flecktones.  Joined by young virtuoso violinists and cellists, Futureman introduces you to the music of Joseph Boulogne de Saint Georges (the "Black Mozart"), one of the earliest classical European musicians with African ancestry. Discover a lost chapter of music history in a performance merging hip-hop and classical music. Brandeis Tickets
5. The Rose Winter Exhibitions
Through April 5
Rose Art Museum
Art Break: Wednesday, Feb. 18, 12 p.m.
Enjoy a deliciously eclectic mix of great works from the Rose vaults and some of today's hottest artists. Featuring Kandinsky, Picasso, Lichtenstein, and Hoffman. Fine arts faculty Joe Wardwell has curated a bold exhibition in the Lee Gallery. Free to the Brandeis community.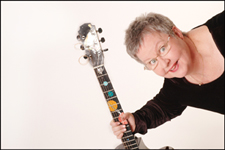 6. Christine Lavin in Concert
Friday, March 6, 8 p.m.
Slosberg Music Center
This concert will irk Priscilla Presley, the NRA, cigarette smokers, and Dick Cheney. Ms. Lavin's funny, topical folk songs ("Tom Cruise Scares Me") hilariously celebrate the absurdities of contemporary life.  Join Ms. Lavin for a knitting circle at 7 p.m.in Slosberg lobby. Brandeis Tickets
7. MusicUnitesUS: Nettle
Saturday, March 21
Slosberg Music Center
You have never heard anything like this: Nettle is comprised of an African-American DJ, two Moroccan musicians, and a Scottish cellist who met while living in Barcelona. By merging new technology with centuries-old traditions, Nettle gives multicultural expression to the creative frictions of globalization. Brandeis Tickets
8. Prospect I/Prospect II
March 18-April 24
Dreitzer Gallery in the Spingold Theater Center
The gifted post-baccalaureate artists, who work in studios on Waltham's Prospect Street, exhibit their finest painting, sculpture, drawing, and printmaking. This unique Brandeis program was profiled last year in the New York Times. Free and open to the public.
9. Hecuba by Euripides
Translated by faculty Eirene Visvardi, Leonard Muellner, and their students
Directed by Eric Hill
Featuring Janet Morrison as Hecuba
Music composed by David Rakowski
April 2 – April 5
Spingold Theater Mainstage
Three Brandeis departments unite to present Euripides' timeless tragedy in an innovative new adaptation.  Devastated by the loss her family to a brutal war, Queen Hecuba confronts the disparity between justice and revenge.  If you've never seen Eric Hill direct a tragedy or Janet Morrison onstage, this will take your breath away. Brandeis Tickets
10. Salon of the Arts 2009
Kniznick Gallery (WSRC)
April 22–Sept. 25
Women's Studies Research Center scholar-artists exhibit work inspired by the metaphor of the cairn. Expect paintings, plays, music, and poetry that explore memory, journey, and the natural world. Expect the unexpected. One of the featured events of this year's Leonard Bernstein Festival of the Creative Arts. Free and open to the public.
11. Carmina Burana!
Brandeis-Wellesley Orchestra and Brandeis and Wellesley Choruses
Saturday, April 25, 8:30 p.m.
Levin Ballroom
Neal Hampton conducts Carl Orff's majestic Carmina Burana (1937) with more than 100 performers in one of those blockbuster campus events that people will talk about for years.  I just hope we can fit everyone in Levin Ballroom! One of the highlights of the Leonard Bernstein Festival of the Creative Arts (April 22-26). Free and open to the public.
12. Senior Honors Art Exhibition
April 29-May 17
Dreitzer Gallery in the Spingold Theater Center
The class of 2008 exhibits its finest work. Brandeis student creativity at its very best. Free and open to the public.
For more information about upcoming arts events, join the Arts@Brandeis E-List. Look for the next issue of Brandeis' State of the Arts magazine on campus Jan. 26.
Return to the BrandeisNOW homepage