What is Dean of Admissions Gil Villanueva doing NOW?
He talks about where we stand with this year's admissions process, the economy's impact on applications, and why he's optimistic for the future
Gil Villanueva was born in Manila, Philippines, and lived there until he was 12. His family immigrated to the United States in 1981. He says he feels truly fortunate to have been exposed to all types of diversity while growing up. He was named dean of admissions at Brandeis in 2005.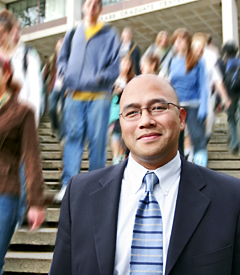 BrandeisNOW:
The admissions office must be pretty busy right now. 
GV:
We need to be. Actually, I don't know if you know this, but every year we work through the holidays except for Christmas Day and New Years.  Winter break is the time for us to receive and process a lot of applications.
BrandeisNOW:
  What's going on in undergraduate admissions exactly?
GV:
The office of admissions is fully engaged in application processing and review. The operations staff is focused on receiving applications and supporting documents and processing reading folders. Meanwhile, the counselor staff is reading, reading and reading.
The Committee on Admissions is in the midst of carefully selecting those students that we find to be the best match for Brandeis, not only those that demonstrate the ability to do the work here but also those who will fully benefit from the Brandeis experience. We're so fortunate to have such a self-selecting pool- so many of those who apply are some of the best students around. So it's not just about grades and test scores. We're interested in how an applicant is a total fit or match: are they good citizens? Are they going to add something else outside of academics to this institution? So, for our staff, it means a lot of reading and scrutinizing.
BrandeisNOW: 
How's the process going this year?
GV:
It's going well. I sat in committee yesterday. Some applicants were admitted by the committee, some were waitlisted, and some were denied.
BrandeisNOW:
  Do the letters immediately go out?
GV:
It depends on the admissions program because right now we're currently working on Early Decision 2. Admission letters for ED2 are slated to go out on February 1st. After that, we have a special invited group and for them we plan on sending out admission letters on February 15th. And then the Regular Decision pool by April 1st, which, by the way, is the national deadline for regular admission. But here's the truth: in the last decade and a half, most colleges and universities send their letters to arrive prior to April 1st. When you account for spring admitted student programs, especially if they're scheduled early in April, you need to send your letters as early as you can. When you're trying to recruit students from across the nation and abroad, you want to give them at least a two-week window to secure a reasonably-priced flight.
BrandeisNOW:
  When are the applications due for the regular admittance?
GV:
It's January 15th so we're pretty excited around here. We're waiting to see how many applications we receive by and on that date.
BrandeisNOW:
  Has the economy had any impact on the number of applications here?
GV:
History tells us that college attendance actually increases during a recession. The direct beneficiaries, however, are the state and public institutions. The news several weeks ago validated this when many state universities received record numbers of applications. I think a school's ability to extend sufficient financial aid will impact recruitment and enrollment more than ever. So it's not just the recruitment piece but also the ability to keep the current student body intact. Don't forget that your current students are also impacted by this economy, so it's critical to continue to maintain the level of financial aid and assistance that you're extending to them.
With this economic crisis, everyone is affected. Brandeis is affected. Every institution across the country, particularly private colleges and universities, are affected. Most are reporting downturns in applications. So that's what you're going to find and it's very typical when these tough times happen.
BrandeisNOW: 
Are you talking across the board here – early decision and regular admission applications?
GV:
I have an interesting story to tell you. Early decision was very much the same for Brandeis, and many smaller liberal arts schools across the country reported record highs in early decision. The theory is that when there's a downturn economy, families of means will leverage their ability to pay to maximize and gain acceptance to institutions. Meanwhile, need-aware institutions will gladly admit them. While Brandeis remains need-blind, many institutions, needless to say, are going to be even more need-aware during tough economic times.
BrandeisNOW:
Has your office been keeping track of how much financial assistance Brandeis is potentially going to have to dole out?
GV:
We are need blind for domestic students but need-aware for international students. If we go to the waitlist, however, it is likely that we will account for a family's ability to pay the cost of attendance. We're upfront about the latter policy with the public. 
BrandeisNOW: 
Kiplinger.com has named Brandeis the no. 16 best value in the country for a private college education. How does something like that help in an economy like this?
GV:
That's fabulous! That screams value. When families are suffering through tough economic times and if you're promoting elite institutions, then you want to be able to talk about value and this ranking certainly speaks to that. To be highly-ranked lends support to the notion that there are agencies out there that understand what a Brandeis education brings to the table. Our graduates do very, very well and, of course, that's been a big part of the message when we promote Brandeis. This place puts young men and women in the position to be successful in whatever area they choose upon graduation and beyond.
BrandeisNOW:
How are you doing in terms of the numbers for regular admission at this point.
GV:
We're actually down in applications, which is consistent with other private institutions. But it's nothing we're going to panic about. The key is to have enough to draw upon and we're delighted with the group that we have. In fact, we actually detect some gains in terms of overall academic quality. We have more applicants ranked in the top 10 percent of their high school class and their test scores are a bit higher.
BrandeisNOW:
  In this final week before regular applications are due, how optimistic are you to make up some of that ground?
GV:
I certainly will always be optimistic and doing what we can to help ourselves. While I am always looking ahead, I also have to be realistic. I understand that we're in a position to select from the applicant pool that we have. I also understand the key here is to make sure that we meet the bottom line -- we have the class that we want. This is something Brandeis can achieve so as long as we stay the course and that includes supplying students who need financial assistance with what they need. As we have always done, admissions will work with the entire Brandeis community to bring in another strong class.
BrandeisNOW: 
What's on the horizon for your admissions office?
GV:
Most admission officers right now are already working on next year's class. We started marketing Brandeis this summer to high school juniors and seniors. Many of you know that the business of college admissions is very cyclical. In fact, I'll be traveling all over during the next three weeks speaking at high school college nights. The counselor staff will also hit the road soon after we send our admission decision letters.
In the long term I truly believe we will continue to build upon past years' successes and this means working harder, smarter, and spearheading a community-wide effort to recruit the best, the brightest, the most diverse to Brandeis. 
Return to the BrandeisNOW homepage