Exhibit honoring Lincoln's 200th birthday at Robert D. Farber Archives
"Abraham Lincoln and the Civil War: A Commemorative Exhibition" will feature hundreds of artifacts

"Abraham Lincoln and the Civil War: A Commemorative Exhibition"
Robert D. Farber University Archives & Special Collections
Library and Technology Services
Goldfarb Library, Level 2
Monday through Friday, 9 a.m. – 5 p.m.
Through June 2009
Exhibit Opening Reception:
Tuesday, Feb. 10, 5 p.m. – 9 p.m.
Rapaporte Treasure Hall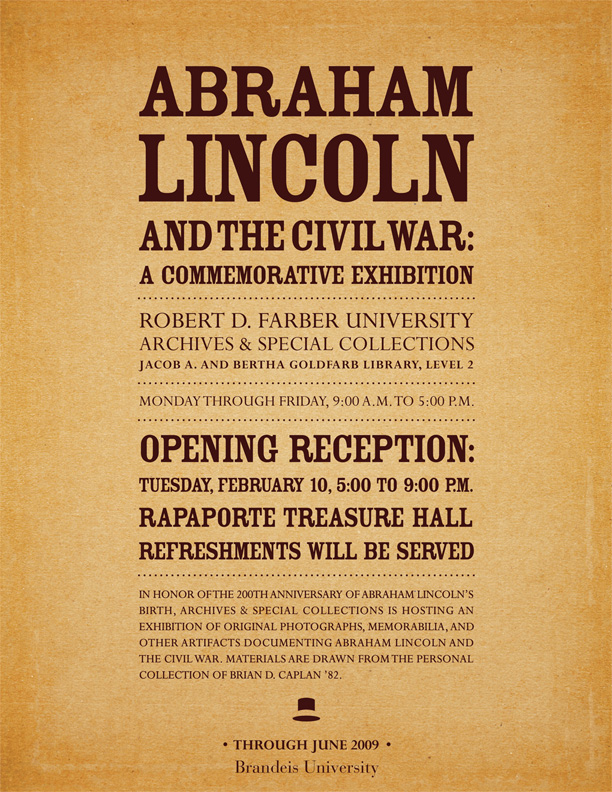 Click here to watch a preview video of the exhibition 
WALTHAM, Mass. – As many as 300 artifacts pertaining to President Abraham Lincoln and the Civil War will be displayed at Brandeis University in honor of Lincoln's 200th birthday, which falls on Feb. 12. "Abraham Lincoln and the Civil War: A Commemorative Exhibition," hosted by the Robert D. Farber University Archives & Special Collections Department, Library and Technology Services, will include, among other historical items, an original note handwritten by Lincoln in 1861 and a sash worn by a horse at his funeral in 1865.

The exhibition of original photographs, memorabilia, and artifacts is part of the personal collection of Brian D. Caplan, a 1982 Brandeis graduate and New York City lawyer. Caplan has been a collector since his college days and has amassed as many as 20 different collections. He says Lincoln and the Civil War are his collecting "specialties."

"This material sits in a den in my home and in my office, but since it's historical and timely I wanted to share my collection so that people can learn from it," Caplan said. "I think Lincoln's humanity is key. He had a heart, he had forgiveness, and before he was assassinated he believed in forgiving the South with open arms. There are not that many people who have intelligence, strength, leaderships skills and humanity as character traits together."

Over the years Caplan has attended many Civil War and political trade shows and general auctions in order to build his collection. In its entirety, he has thousands of pieces concerning Lincoln and the Civil War, including many photographs.

The artifacts in the exhibition will be divided into several categories, including the election of 1860; the commencement of the Civil War; camp life; the plight of African Americans in the Civil War; Lincoln's family; Confederate and Union generals; the re-election of 1864; children of war; and Lincoln's assassination and funeral as well as the trial following his death. One of the featured items is a note written by Lincoln in 1861, approximately two weeks after the Civil War began.

"Since Lincoln and the Civil War are intertwined, it's not possible to do one without the other," Caplan said. "Although I don't have any personal effects of Lincoln, what I do have, combined with the Civil War photography and related items from camp life, I think will make for an interesting exhibit."

According to Karen Adler Abramson, associate director for university archives & special collections, this is the first time the department will display an exhibit originating outside the Brandeis campus.

"We're delighted to host an exhibit on Abraham Lincoln and the Civil War during the bicentennial year of Lincoln's birth," says Abramson. "These two topics continue to have great currency for the academic and broader communities and we are very grateful to Brian Caplan for giving us the opportunity to showcase a portion of his rich and comprehensive collection."

An opening reception will be held on Tuesday, Feb. 10, from 5–9 p.m. in Rapaporte Treasure Hall, which will include a brief panel discussion featuring three Brandeis graduate students on various aspects of Lincoln and the Civil War. The exhibit will be on display through June of 2009 at the Robert D. Farber University Archives & Special Collections Department, located in the Goldfarb Library, Level 2. For more information, contact (781) 736-4686 or ascdepartment@brandeis.edu.
Return to the BrandeisNOW homepage