Benny Friedman biography subject of 'Meet the Author' Wednesday
'Passing Game,' by Murray Greenberg '77, follows the former Brandeis football coach's Hall of Fame career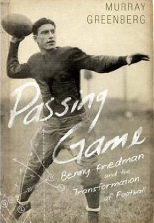 Meet the Author featuring Murray Greenberg '77
"Passing Game: Benny Friedman and the Transformation of Football"
Rapaporte Treasure Hall
4 p.m.
All MTA events are free and open to the public.
Bring a friend; buy a book; have it signed.
Murray Greenberg '77, a litigator turned author, will be on campus on Feb. 4 to discuss his new book about former Brandeis football coach Benny Friedman.

"Passing Game: Benny Friedman and the Transformation of Football" chronicles Benny's often-overlooked role in shaping pro football. The book, Murray's first, has received many glowing reviews, including this comment in a recent edition of Sports Illustrated: "Greenberg's rich, well-researched narrative chronicles the quarterback's rise from bench warmer to All-America at Michigan, his impact on the fledgling NFL and his journey from beloved Jewish icon to a forgotten star."

An entire chapter of the book is devoted to Benny's tenure as Brandeis football coach and athletic director. Due in part to a publicity effort spearheaded by his former Brandeis players, Benny was finally voted into the Pro Football Hall of Fame in 2005. Many of "Benny's Boys" from Brandeis attended the induction ceremony in Canton, Ohio.
Read the Washington Post's review of "Passing Game." 
For a complete list of this semester's "Meet the Author" events, read the MTA press release.
Return to the BrandeisNOW homepage