Wednesday's Meet the Author event to feature Irene Pepperberg
'Alex & Me' author will talk about her groundbreaking research, and the public response following Alex's death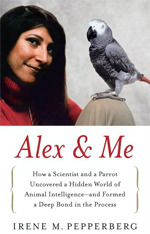 Meet the Author featuring "Alex & Me" by Irene Pepperberg
Wednesday, Jan. 21 at 4 p.m.
Rapaporte Treasure Hall
This event is free and open to the public.

"[M]ovingly combines the scientific detail of a researcher...with the affectionate understanding that children...instinctively possess: that 'animals know more than we think, and think a great deal more than we know." -- Michiko Kakutani, New York Times
"Readers interested in how a scientist methodically goes about gathering data will find 'Alex & Me' an intriguing look behind the scenes. But readers who are looking for a touching little love story get the better deal here." -- USA Today

Irene Pepperberg is an adjunct associate professor in the Department of Psychology. She is the author of the memoir "Alex & Me: How a Scientist and a Parrot Uncovered a Hidden World of Animal Intelligence–and Formed a Deep Bond in the Process." In the book, Pepperberg reflects on her friendship with Alex, the African Grey parrot she worked with for 30 years in her groundbreaking research on animal cognition. BrandeisNOW recently caught up with Dr. Pepperberg to ask her about the book and the Jan. 21 Meet the Author event.
BrandeisNOW: What are you going to be talking about at the Meet the Author event for your new book, "Alex & Me?"
Irene Pepperberg: Basically what I'll be talking about is the amazing response of people after Alex's death, and how that affected me, and how that was really the impetus to write the book, to let people know a little bit of my back story since they had all shared their back stories with me.
BrandeisNOW: What do you get out of writing "Alex & Me," and what do you hope people get out of reading it?
IP: Well, people ask me if I found it cathartic at all, and I couldn't say that was true. It was a very difficult process of going back over all the memories and all the times. I hope the people do understand when they read it, what Alex and I had to face and what we had to go through as a team, as colleagues, to demonstrate to people the intelligence that birds have.
BrandeisNOW: How did you recall all the little things that happened between you and Alex over the course of your time working together?
IP: I had kept a diary, so that wasn't the issue. It was going back and going through all those diaries and reading them and having those memories pour back.
BrandeisNOW: "Alex & Me" has received a lot of publicity, and a lot of accolades. New York Times critic Michiko Kakutani, for example, named it one of her 10 favorite books of 2008. Are you surprised by what an impact Alex has had, but now "Alex and Me" has had?
IP: I was surprised by the impact of Alex's death on the public. That was just an incredible shock. But because of that, I'm not surprised at the reception of the book. One led to the other. I really was just overwhelmed -- there were 3,000 emails to my personal account and thousands more to a website that we had to set up to handle all of this because it was overloading the server for the server that was holding the Alex Foundation website. The boxes and boxes of letters; it was just truly unbelieveable. And I did read every one of those letters. I didn't necessarily have a chance to respond to every single one, but I did read every one of those and it was just amazing.
BrandeisNOW: Was there a common theme to the letters and emails that you received?
IP: The thing that seemed to be a common theme was the idea that such a small creature like a bird can work so hard and learn so much. It seemed to touch people and give them the feeling that they could face their difficulties and that they could succeed as well.
BrandeisNOW: Is it special for you to be talking about Alex's story with the Brandeis community at next week's Meet the Author event?
IP: It is. It is. It was a long period we were at Brandeis together. I look forward to talking with people at the event.
Return to the BrandeisNOW homepage