Brandeis athletes earn University Athletic Association honors
WALTHAM, Mass. – Three Brandeis University women have earned University Athletic Association (UAA) Athlete of the Week honors for the week ending Jan. 25. Sophomore Alex Dalrymple of New York, N.Y., and senior Jessica Newhall of Falmouth, Mass., were recognized for women's fencing, while senior Ali Sax of Lincoln, Mass., was honored for women's track and field.
Dalrymple and Newhall combined to go 19-1 for the Brandeis women's foil squad at the second Northeast Fencing Conference (NFC) meet of the season at Brown University on Jan. 23. Dalrymple was 10-1, while Newhall was 9-0. Overall, the squad posted an impressive 48-6 record. Brandeis posted wins over Dartmouth, 20-7; Boston College, 19-8; defending NFC champions Brown, 19-8; Vassar, 20-7; Tufts, 21-6; and Smith, 17-10, to finish with a 6-0 record at the meet and a 12-0 mark in the NFC to claim their first-ever league title.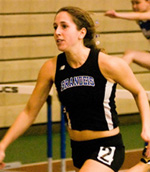 Sax, a senior captain of the Brandeis women's track team, was the top point-scorer for the Judges with three runner-up performances at Brandeis's Reggie Poyau Memorial Invitational on Jan. 23. Sax was second by 1 ½ feet to teammate Anat Benun of Haifa, Israel, in the triple jump with a distance of 36 feet, 4 inches (11.07 meters), while narrowly missing two other victories. Sax's other second-place finishes came in the long jump, where she tied for the top spot on distance at 16 feet, 11 ¼ inches, but was awarded second place by the judges, and in the 55-meter hurdles, where she qualified with the fastest time in preliminaries at 8.92 seconds, but finished second in the finals by six-hundredths of a second with a time of 8.96 seconds. Brandeis finished second at the meet to Bowdoin College.
Dalrymple is a 2007 graduate of LaGuardia High School. She is the daughter of Chris Dalrymple and Eileen Kasofsy, New York, N.Y.
Newhall is a 2005 graduate of Falmouth High School. She is the daughter of Arthur and Toni Newhall, E. Falmouth, Mass.
Sax is a 2005 graduate of Lincoln-Sudbury High School. She is the daughter of Eric and Julia Sax, Lincoln, Mass.
For more information on Brandeis University Athletics, please visit the athletics website.
Return to the BrandeisNOW homepage