6 down? Try a well-known Brandeis professor
If you were recently filling out the Jerusalem Post's crossword puzzle, you may have been surprised to see that a Brandeis professor made the grid. In one of the puzzles published earlier this month, number 6 down was looking for the last name of "Leading American Jewish historian Jonathan _." Since you've likely figured it out by this point, we don't mind telling you that the answer was the university's own Jonathan Sarna, the Joseph H. & Belle R. Braun Professor of American Jewish History.
"I never imagined that I would be the answer to a clue in a crossword puzzle," Sarna told BrandeisNOW. "When I realized that I was in the company of some leading American Jewish thinkers and rabbis, likewise referenced in the puzzle, I was particularly honored. Of course, it is pleasing to know that so many readers of the Jerusalem Post know my work."
Sorry, but we can't help you out with the rest of the puzzle.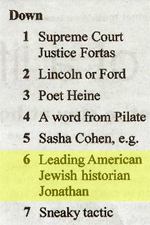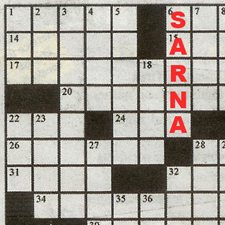 Return to the BrandeisNOW homepage